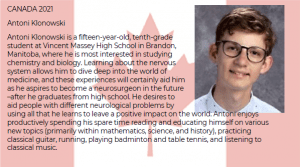 Congratulations to Antoni Klonowski from Brandon, Manitoba, who won the third place for Canada at the 2021 International Brain Bee competition, held virtually November 5-8, 2021. The IBB is the world's premier neuroscience competition for teenagers.
This past summer, the Canadian Brain Bee organizing team joined forces with local Brain Bee organizers from across the country and hosted both local and a national Brain Bee competition from McMaster University. Antoni Klonowski, a young 15 year student from Brandon, Manitoba won the Canadian Brain Bee competition to qualify for the World Championship and went on to win third place (an amazing accomplishment) at the prestigious International Brain Bee. He and the other winners were featured in a press release by the IBB.
This is a great opportunity to share a wonderful accomplishment of the next generation of neuroscientists in Canada.
Read the IBB press release here
Learn more about Antoni Klonowski in his short bio
Recordings of the IBB live-streamed events are available on the IBB youtube channel