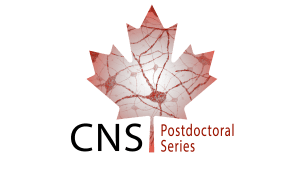 View the Speakers & Schedule -March 2023 – January 2024
Call for speakers – Season 2
Deadline extended to December 10th, 2023
We are pleased to announce the second round of
Canadian Neuroscience Seminar Postdoctoral Series 2024 (CNS-PDS2024): for Postdocs, by Postdocs.
This seminar series will feature virtual talks from postdoctoral researchers in the broad field of neuroscience.
Selected speakers will be able to share their research and network with the Canadian Neuroscience community from across Canada and beyond. Seminars will take place virtually once a month from February 2024 to January 2025, the first Thursday of every month.
WHY? To highlight and showcase the excellent research done by our postdocs on a digital platform to access a wide audience. Ultimately, we hope to foster a supportive environment for the growing Canadian Postdoc community. Selected speakers will receive a $200 CAD honorarium.
WHO? All Postdocs affiliated to a Canadian institution (including international Postdocs) and Canadian Postdocs abroad are invited to apply. We welcome applications from every field of neuroscience.
This seminar series aims to support a diverse range of scientists. As such, women, two-spirit and non-binary researchers, and those belonging to other gender or sexual minorities, along with racialized (especially Indigenous and Black), disabled, neurodivergent, and first-generation researchers are strongly encouraged to apply. Selected abstracts will represent the diversity of Canadian neuroscience.
WHEN? The deadline to apply is December 10th 2023 at 11:59pm PT. Selected talks will be presented between February 2024 and January 2025 in monthly virtual sessions.
HOW TO APPLY?
Please use this form https://forms.gle/9iMo4R8hNMG9wtM36 to submit:
A presentation title
Author list
300-word abstract

Abstract should be max 300 words long (without subheadings).
All abbreviations should be defined.

Where applicable, a statement about the consideration of sex/gender as a biological variable should be included.
Abstracts and talks should be accessible to a diverse audience from any field of neuroscience.
Graphical abstract (optional)
Demographic information (optional)
SEMINAR FORMAT:
Each session will contain two 30-minute seminars presented and selected by postdoctoral researchers. Presentations will be done virtually. Selected speakers will receive an honorarium.
Please note: applicants may be chosen for any date, however, we will do our best to accommodate applicants' schedules.
Questions? Contact seminars@can-acn.org>