President's message
Dear CAN members,
Canadian neuroscientists form a strong and vibrant community, and it was an honour for me to represent you as President over the past year. As Dr. Shernaz Bamji will replace me as President in just a few weeks, I want to take this opportunity to thank CAN members for their support and involvement with the association, and to share some thoughts about CAN's goals and accomplishments.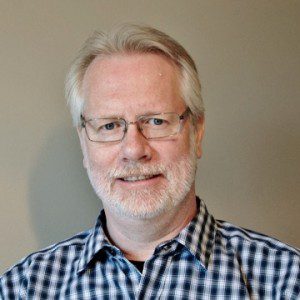 With the organisation of the first CAN Virtual Parliament Hill Week last November, participation in two recent budget consultations, in the Canadian Science Policy Conference, and in multiple meetings with Members of Parliament, Senators and Parliamentary staff of all political parties, CAN has worked hard to build relations with elected officials and partners to promote robust and predictable funding for scientific research in Canada. We have met with many interested parties, and found general support for science from member of all federal political parties. However, with many competing priorities, this support has not yet translated into increase funding to tri-council in the federal budget. To reach this goal, it will be important to continue our relation building and advocacy efforts, and the recent proposal by former Science Minister Kirsty Duncan to form a Science and Research permanent committee at the House of Commons will provide a new opportunity for scientists. I invite you to read motion 38 and to write to your elected official to ask them to support this important initiative (more below).
Promoting neuroscience research is another important objective of CAN. This year, we have received a record number of applications for the CAN Young Investigator Award (14 candidates!) – this attests to the excellence of these new researchers, and the engagement of our community. We are proud to have partnered with CIHR-INMHA to manage the Brain Star Awards, which are a wonderful way to highlight some of the best publications from Canadian laboratories in a calendar year. CAN video research features are another quick way to highlight trainee research – I invite you submit a proposal to participate in this program, so we can share your discoveries on our website and in our social media accounts.
The 2021 CAN meeting will take place virtually, to ensure the safety of our scientific community, as well as to enable maximum accessibility and engagement for those unable or unwilling to travel. We look forward to seeing you, virtually, in August. The CAN meeting is an important event for our community, as a way to stay engaged and to support our trainees, who have a chance to present their work, and get important feedback.
I also take this opportunity to thank Susanne Schmid and Soheila Karimi for their valuable input on the CAN board -their term on the CAN Board of Directors is coming to an end in June. David Stellwagen, during his term as Treasurer, resolved important accounting and fiscal issues, and CAN finances will be much easier to manage in the future thanks to his important work. Finally, Katalin Tòth, who has been Secretary, then the first chair of the CAN advocacy committee, then President of CAN is now ending her term as Chair of the CAN nominations committee. CAN owes a lot to Katalin, who helped shaped our association's direction and purpose for many years to come.
I invite you to vote in the CAN Spring elections. I wish to personally thank all the candidates for stepping up and accepting to be candidates to represent their fellow neuroscientists. CAN still has important work to do, and your involvement is more important than ever!
Charles Bourque
President of the Canadian Association for Neuroscience
Science Advocacy
Call to action: Tell you political representative to support Motion M-38 to create a Standing Committee on Science and Research
It looks like my Motion M-38 to create a Standing Committee on Science and Research will have its second hour of debate on May 25th with a vote in the House of Commons on May 26th. I will continue to keep you updated, as timing can change. pic.twitter.com/x2w2mlKNk6

— Kirsty Duncan (@KirstyDuncanMP) May 11, 2021
Tips on writing to your elected official
If you have never written to your Member of Parliament, you can find useful tips on how to connect with him or her in the Advocacy handout we developed with SfN for our last meeting. The full document is available at https://can-acn.org/advocacy/ (in the CAN advocacy resources section – direct link: https://can-acn.org/documents/2019/CAN-SfN-Advocacy-training-2019-05-22-handout.pdf)
Excerpt from page 13 of the handout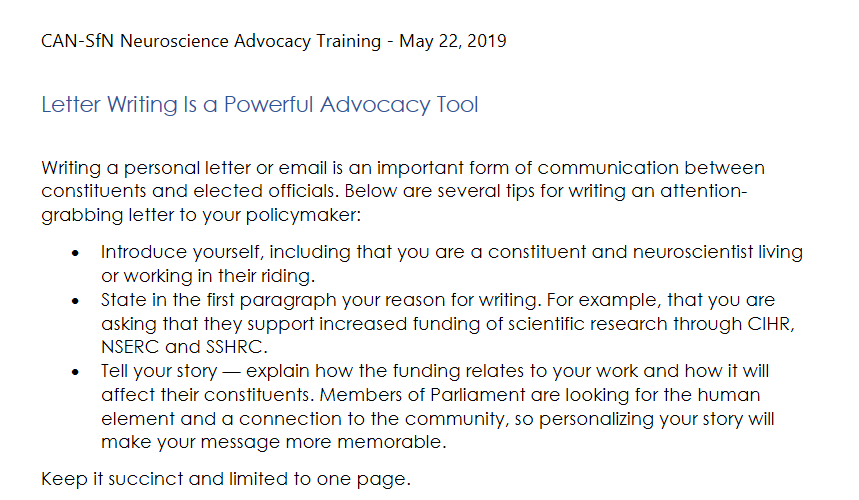 CAN advocacy & outreach awards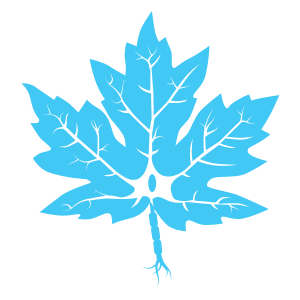 The CAN advocacy & awards program aims to to support the important work trainees do to promote and showcase neuroscience research and education.
Sponsorships consist of a financial contribution of up to $1000 CAD to support a specific event/activity, a letter of recognition from the CAN advocacy committee, and a feature article about the event on the CAN website and social media accounts. The event/activity does not have to be in-person, but can be virtual, through social media, etc. The requests for the funds should be clearly justified.
If applicable, CAN should be acknowledged as a sponsor / supporter of the activity.
To apply, please visit:
https://can-acn.org/can-trainee-advocacy-outreach-sponsorships/
Applications will be accepted at all times and reviewed every three months (March 1, June 1, September 1, and December 1) and awards will be given based on adherence to award criteria and be contingent on budget availability.
Latest CAN advocacy report – March 2021
Wondering what else the CAN advocacy committee, chaired by Karun Singh, has been up to? Click here for the latest advocacy report to learn more: https://can-acn.org/wp-content/uploads/2021/03/Advocacy_report_March_2021b.pdf
Spring elections
Elections are currently underway to determine who will represent you for the coming years. We are very proud to present the candidates for this election.
Note that all regular members of CAN in good standing have been sent instructions to vote. If your membership is expired, we have sent you a reminder to renew your membership.
Become a member or renew your membership today for a the opportunity to vote – Elections close on May 21, 2021.
Candidates for CAN Vice-President (2)
Candidate for Secretary
Board of Directors candidates (4 candidates)
Please vote for three of four candidates:
CAN2021 Meeting news
Due to the ongoing COVID-19 restrictions in place throughout Canada and beyond, CAN-ACN is excited to announce that the 14th Annual Meeting will be held as a virtual event, taking place from 23 – 25 August 2021. This decision was made to ensure the safety of our scientific community, as well as to enable maximum accessibility and engagement for those unable or unwilling to travel to Vancouver.
Abstract submission
Given the recent announcement that the format of the meeting has changed, we have extended the abstract submission deadline to June 1, 2021.
Registration
Registration for the CAN meeting is now open!
https://can-acn.org/meeting-2021/registration-2021/
Early bird registration rates will be available until June 30th, 2021, so it pays to register early. Note that a limited number of CAN registration waivers (details below) and IBRO awards are available to encourage trainee participation.
CAN Pandemic relief registration waivers
The CAN travel awards program will be replaced in 2021 by a registration waiver program to support trainee attendees.
The objective of the pandemic relief waivers is to help laboratories and students that have been negatively impacted financially by the pandemic.
View program description and conditions here: https://can-acn.org/meeting-2021/can-2021-pandemic-relief-registration-waivers/
IBRO Awards to encourage participation of Canadian trainees from underrepresented groups in the CAN meeting
The important support that IBRO has been providing to members of under-represented groups to participate in the CAN meeting over the last years has been an important way to diversify and improve attendance in our meeting.
Again in 2021, the IBRO US-Canada regional committee (IBRO-USCRC) is offering IBRO awards to encourage participation of Canadian trainees from underrepresented groups in the CAN meeting.
These awards are for graduate students and postdoctoral fellows to attend the 2021 virtual CAN meeting, and cover the price of meeting registration.
View full eligibility criteria here: https://can-acn.org/meeting-2021/2021-ibro-awards/
Sponsors and Exhibitors
Sponsors and exhibitors are important partners that allow us to keep registration fees low for all our attendees, including trainees. We invite you to share information about the CAN meeting to vendors and others potential partners.
More details: https://can-acn.org/meeting-2021/2021-sponsors-exhibitors/
Brain Star Awards Program
CAN is proud to have managed the CAN-CIHR-INMHA Brain Star Awards program for a second year. We received 138 applications for the 2020 Brain Star Awards. The review committee, composed of 18 researchers from across the country and chaired by CAN Past-President Katalin Toth, were very impressed by the quality and breadth of neuroscience research and discoveries made by trainees in a single year.
The 2020 Brain Star Award winners will be announced in the coming weeks – follow our website and social media account to see the Brain Star profiles!
Our initial agreement with CIHR-INMHA was for the 2019 and 2020 Brain Star Awards, and we are happy to be currently working with our friends at INMHA to extend our agreement for another two years.
Opportunities
CAN video research features – Call for applications
The Canadian Association for Neuroscience wants to highlight the important neuroscience discoveries made in Canada, and proposes a new platform to publicize and promote research that has not necessarily been featured by press release. We aim to make this accessible and easy to do, from your home, office or lab. The research features will be featured on the can-acn.org website and on our social media accounts (twitter, facebook, Instagram and linkedin).
Participation criteria
Participant should be a trainee (student or post-doctoral fellow) working in a laboratory in Canada or a Canadian working abroad.
Trainee or PI must be currently members of CAN
Participant should have recently published a peer-reviewed paper of interest to the Canadian neuroscience community.
The participant should be willing to share a video about their discovery on CAN's public channels (website, YouTube, Twitter, Facebook, LinkedIn, Instagram)
Learn more here: https://can-acn.org/can-video-research-spotlights/
The Brain Prize nominations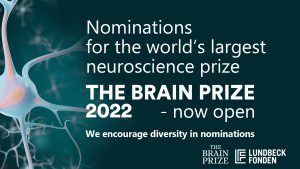 The Lundbeck Foundation is now accepting nominations for next year's winners of The Brain Prize, the world's largest prize for neuroscience. Find out about the nomination and selection process, and nominate here: https://lundbeckfonden.com/en/node/4051 The Brain Prize recognizes ground-breaking advances in any field of neuroscience, from basic to clinical research, and recipients may be of any nationality and working in any country in the world. Anyone can nominate and the Lundbeck Foundation warmly welcomes nominees and nominators from diverse backgrounds.
Application deadline: September 1, 2021
SfN Award nominations – deadline extended to May 21, 2021


The nomination deadline has been extended to Friday, May 21 at 5 p.m. EDT for the following award categories:
Depending on the award, recipients will get up to $30,000 in cash prizes. Be sure to review eligibility requirements and nomination materials before applying.
Nominate someone today!
FENS Forum 2022: submit your symposium and technical workshop proposals!
The call for symposia and technical workshops for the FENS Forum 2022 is open! Don't miss this opportunity to share your research and shape the scientific programme of Europe's premier neuroscience meeting: with 56 symposia across four days, there is enormous scope to showcase your field!
Full list of themes and submission are available here and to discover some of the reasons why you should submit a proposal, please click here.
Fyssen Foundation International prize ceremony – May 18th, online
The Fyssen Foundation is happy to invite you on May 18th at 3 p.m CET for the international award ceremony to the Professor Richard MORRIS on the theme : ECOLOGICAL PSYCHOLOGY AND SPATIAL NAVIGATION
Please find below the link to register :
https://event.brainsonic.com/fondation_fyssen/fondationfyssen-20210518-live/signup/
3rd Annual International Touchscreen Symposium – May 20-21, 2021
The 3rd Annual International Touchscreen Symposium will be held virtually over two half days on May 20-21, 2021, featuring leaders in the field of developing touchscreen cognitive testing.
This year, the Symposium will feature talks, data blitz, a technical forum session facilitated by topic experts, and more.
Please click here for the full schedule of events, abstracts, and registration.  Registration is free.
2nd Canadian Computational Neuroscience Spotlight (CCNS) – May 17-18, 2021
The field of Computational Neuroscience is growing fast in Canada. In our ongoing pursuit to highlight this interdisciplinary research and the community of such scientists in Canada, we are delighted to announce that the 2nd Canadian Computational Neuroscience Spotlight (CCNS) will take place on May 17-18, 2021, via the Crowdcast platform (online, remote, free registration). The CCNS will include four themed sessions chaired by internationally renowned computational neuroscientists: Dr. Maurizio De Pitta, Dr. Etay Hay, Dr. Carmen Canavier, and Dr. Bratislav Misic. Each session will include Keynote & Research talks by a group of distinguished scientists both reflecting the community of Canadian computational neuroscientists and the field's global reach. These sessions will begin with a tutorial talk to introduce a topic of importance to our diverse audience. Short talks will also be given by trainees.
For details, check
CCNS 2021: https://ccnsmeeting.ca
To register: https://www.crowdcast.io/e/ccnsv2/register
Brain Injury Canada is recruiting for their Board of Directors.
The mission of Brain Injury Canada is to advance awareness, education, opportunities, and support by: advocating at a national level on issues important to the brain injury community; establishing meaningful connections and collaborations with stakeholders; and, educating and empowering people living with acquired brain injury, families/caregivers, healthcare workers, researchers, and the general public.

The Board of Directors provides strategic leadership and general direction, governance, creates internal policies and procedures, oversees the organization's general performance, and ensures overall accountability. It is currently looking to recruit new Board Directors who are enthusiastic about growing a non-profit organization and bring a mix of leadership, experience and networking skills. As Directors, you will help shape the strategic direction, internal policies and overall governance for Brain Injury Canada. 

Please contact Michelle McDonald – Executive Director at mmcdonald@braininjurycanada.ca for more information. www.braininjurycanada.ca
Jobs & fellowships
Recently posted job and fellowship opportunities – from the #neurojobs webpage: https://can-acn.org/neuro-jobs/