Message from the President – Katalin Toth
Dear Colleagues,
A new academic year is upon us, and I am happy to report on new opportunities that are available for Canadian neuroscientists to get involved and strengthen our community, and support research in Canada.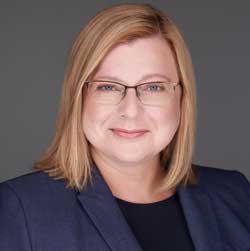 One of my first acts as CAN President has been to sign a new Memorandum of Understanding (MoU) with the Society for Neuroscience (SfN) to support CAN's advocacy efforts for the next 3 years.  SfN's support over the last years has been of critical importance to develop CAN's advocacy program, and this new MoU will allow us to pursue our efforts to advocate for increased funding for basic research in Canada, and the full implementation of the Naylor report. It is important to have strong voices promoting investments in research in Canada, and we are very grateful for the support SfN has provided, both financially and in person, and for the confidence they have in us to pursue this mission on behalf of all Canadian neuroscientists. SfN has great advocacy resources, best practices and newsletters on their website, https://www.sfn.org/advocacy
The success of our advocacy efforts depends on the participation of our members, and I therefore invite you to get involved with us to advocate for increased support and funding for research in Canada.  In this newsletter, we share some of the opportunities available to you, in preparation for the upcoming federal election campaign. We have other exciting initiatives in preparation – I invite you to visit our advocacy page to learn about these, and to find advocacy resources: https://can-acn.org/advocacy/
One initiative we have promoted is an invitation to get in touch with your local member of Parliament.  The more MPs hear about the importance of science funding, the more likely we are to see widespread support for this in government.  If you have reached out to your MP, we would love to hear from you, and we would like to offer you a drink at the CAN social!  Get in touch with us at advocacy@can-acn.org.
I invite you to become a member or renew your membership today – your support is of critical importance to support our mission to promote communication and networking among Canadian neuroscientists, and to promote our interests at the national and international level.  We hope you will continue to support us, and invite you to engage with us on issues that are important to you, and to inform us of opportunities for neuroscientists across Canada.
Katalin Toth, President of the Canadian Association for Neuroscience
Membership renewal
It is time to renew your CAN membership, or to become a member if you are not yet a member!  CAN membership is open to all scientists, principal investigators and students actively involved in neuroscience research from across Canada and around the world. CAN membership dues are paid annually and cover the calendar year from September 1st to August 31st. 
Add your voice to that of hundreds of Canadian neuroscientists who are members of CAN to build a strong community advocating for neuroscience research.  To learn more about the benefits of being a CAN member, please visit: https://can-acn.org/become-a-member
Advocacy news
Become a #neuroadvocate in Canada
Through its advocacy program (see https://www.sfn.org/Advocacy), SfN has developed a network of neuroadvocates who succesfully advocate for increased federal investment in research in the USA.  Most of the arguments for increased research funding are universal, and also apply in Canada, yet it is important that Canadian scientists, and Canadian supporters of scientific research, bring these arguments to their elected representatives and candidates here in Canada.  Elected officials listen to their constituents, and to what matters to Canadians.  The more candidates and elected officials hear about an issue, the more likely they are to support it.
If a candidate knocks at your door in the coming weeks, you can use this opportunity to talk about research funding with him/her.  If your MP is up for re-election, you can get in touch with him/her to talk about research funding.  CAN has developed a short guide on how to talk to politicians: https://can-acn.org/documents/invitationtomeetyourmp.pdf. You will find more opportunities to advocate in the following sections.
October federal elections: CAN engages with candidates of all parties
The CAN advocacy committee has sent 5 questions to the four main political parties in advance of the October 21 federal elections. View our questions here:
https://can-acn.org/questions-for-candidates-in-advance-of-the-federal-election/
We invite you to participate in the Vote Science campaign

Vote Science is a campaign which aims to make science an election issue in the upcoming federal elections.
Advocating for Science in the Canadian Federal Election
Science doesn't usually get a lot of attention during elections, and we think that needs to change. We need your help to send a message that Canadians care about science.
Learn how to get involved on the votescience.ca website
Research Canada launches Your Candidates, Your Health
Your Candidates, Your Health offers Research Canada's Members, Supporters and Partners ways to effectively advocate for and educate 2019 Federal Election Candidates about the social and economic benefits of Canadian health research and health innovation. The website provides resources for Advocates, Candidates and Canadians to share information about the crucial importance of Canada's health research enterprise and health innovation system to the health and wellbeing of Canadians.
Visit the website today to download the Advocates' toolkit, and other resources for advocates: http://yourcandidatesyourhealth.ca/
Next federal elections: October 21, 2019, during the SfN meeting
Please note that the next Canadian federal elections will take place October 21st, 2019, during SfN's meeting in Washington.  We invite all our members who are traveling during this period to vote by anticipation.  There are many options to vote before election day, including the possibility to vote at select campuses across the country (open for five days) about two weeks before election day. You don't need to be a student to vote on campus. More information about advance polling is available on the Elections Canada website.
SfN-CAN Advocacy training session at CAN2019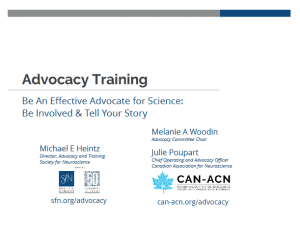 We wish to thank SfN's Michael Heintz (Director of Advocacy and Training at SfN) for participating in the first SfN-CAN advocacy training session, which took place May 21st in Toronto, at the CAN2019 meeting.  Michael Heintz and Adam Katz (Grassroots advocacy specialist at SfN) worked with CAN advocacy chair Melanie Woodin and CAN advocacy officer Julie Poupart to adapt the very succesful SfN Advocacy training workshop to a Canadian audience.
If you missed this event, or you would like to learn more, you can view the presentation slides and the workshop handout, in addition to other useful material, here: https://can-acn.org/advocacy-training-be-an-effective-advocate-for-science-be-involved-tell-your-story/
Signature of a new Memorandum of Understanding with SfN to support CAN's advocacy efforts
CAN is very pleased to announce that the Society for Neuroscience (SfN https://www.sfn.org/) has renewed its support of CAN advocacy efforts to promote neuroscience research in Canada for another 3 years, through the signing of a new Memorandum of Understanding (MoU) between CAN and SfN. With the agreement, CAN has committed to work with a group of professional public affairs specialists to increase and better target our advocacy efforts for maximum efficiency.
New Chair of the CAN advocacy committee: Karun Singh
The CAN board of Directors has approved the nomination of Professor Karun Singh, from McMaster's University, as new chair of the CAN advocacy committee. Dr. Karun Singh has quickly become a leader in the brain development and neurodevelopmental disorders fields. His work is uncovering new disease mechanisms for autism spectrum disorder and schizophrenia, which is paving the way forward to identify new therapeutics. Dr. Singh has been an active member of the CAN advocacy committee, and will now lead the committee as we expand our advocacy efforts in the coming years.
Visit the Canadian Brain Research Strategy website
We invite you to visit the CanadianBrain.ca website to learn more about the proposal to implement a Canada-wide Brain research strategy.
The mission of CBRS is to build on Canada's strengths and current investments in cutting-edge collaborative neuroscience to transform neurological and mental health for Canadians. The Strategy is a grass-roots initiative launched by leading Canadian neuroscientists, in partnership with representatives of the Neurological Health Charities of Canada (NHCC) to respond to a growing need for concerted efforts to understand the brain.
CAN, the NHCC and the heads of neuroscience research institutes across Canada have endorsed this initiative. Learn more about the strategy here: https://canadianbrain.ca/about/
CAN Social at SfN in Chicago
Save the date for the next CAN social at SfN: Tuesday October 22, 6-9PM in Chicago. More details very soon!
The CAN Social at SfN is a great opportunity to connect and network with fellow neuroscientists from Canada, Canadians working abroad and our friends and colleagues.  All are welcome!
Pint for your thoughts:  Have you reached out to your MP to let him/her know about the importance of increased funding for fundamental research in Canada?  We would love to hear from you, and to offer you a beer (or another drink) for your thoughts.  Get in touch with us at advocacy@can-acn.org, or come talk to us at the Social.
CAN2019 Toronto highlights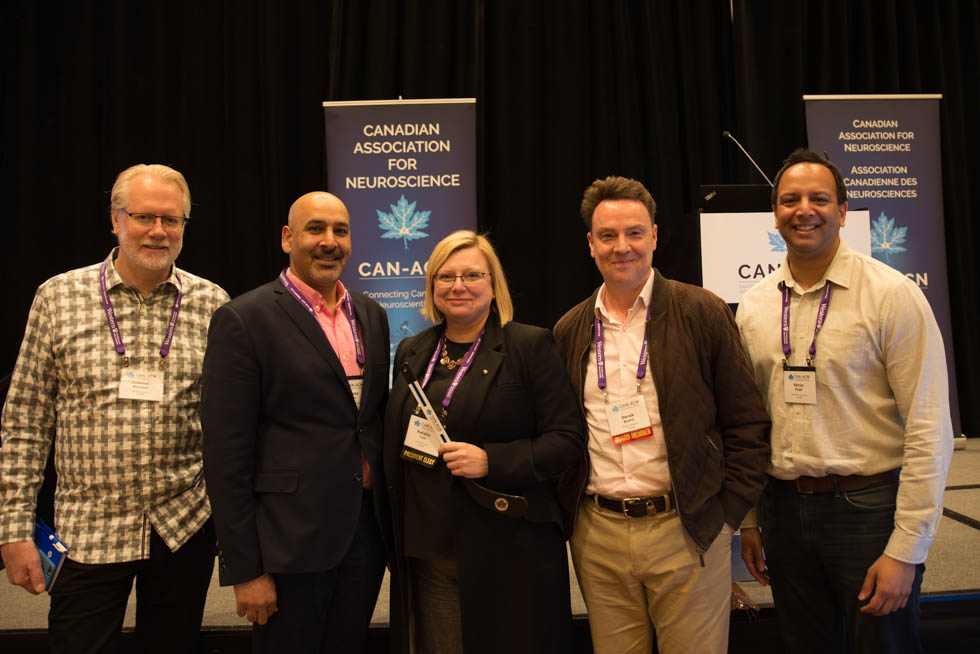 CAN Directors: Charles Bourque, Jaideep Bains, Katalin Toth, Derek Bowie and Karun Singh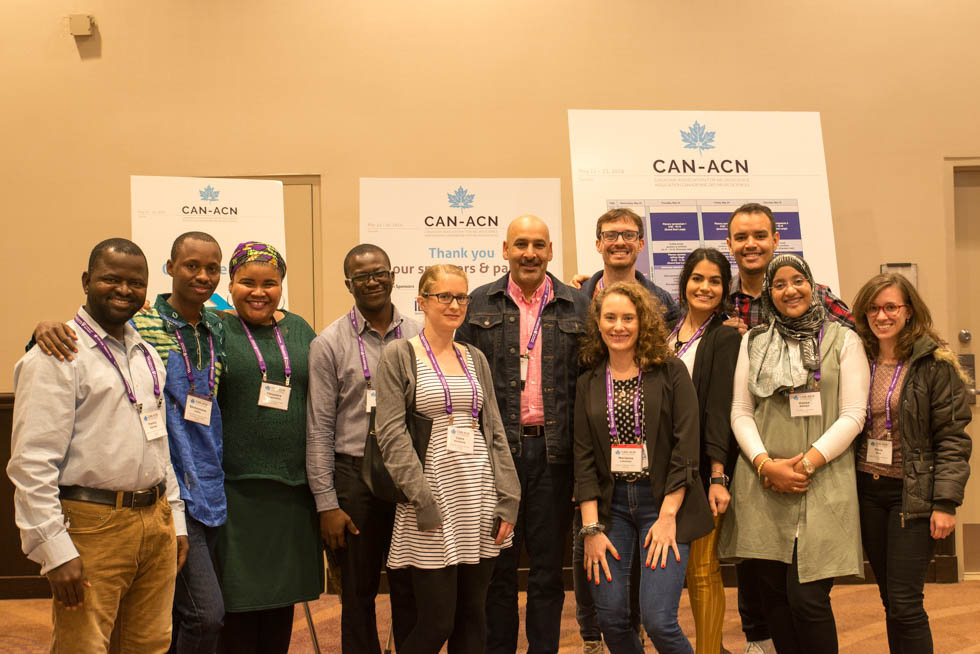 CAN President Jaideep Bains (centre) with the participants of the 13th Canadian IBRO-USCRC School of Neuroscience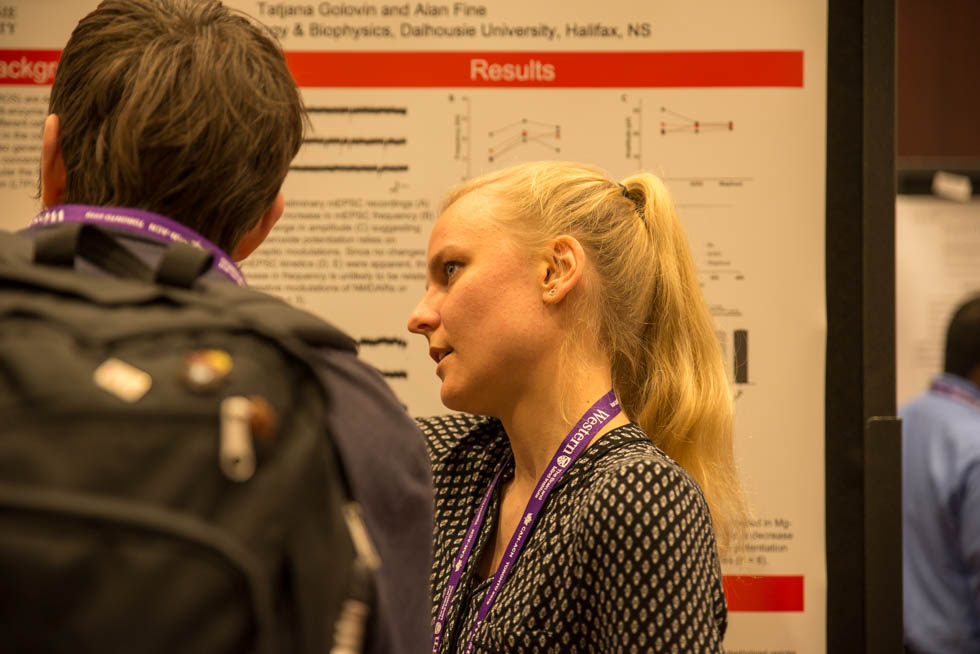 CAN2019 Poster session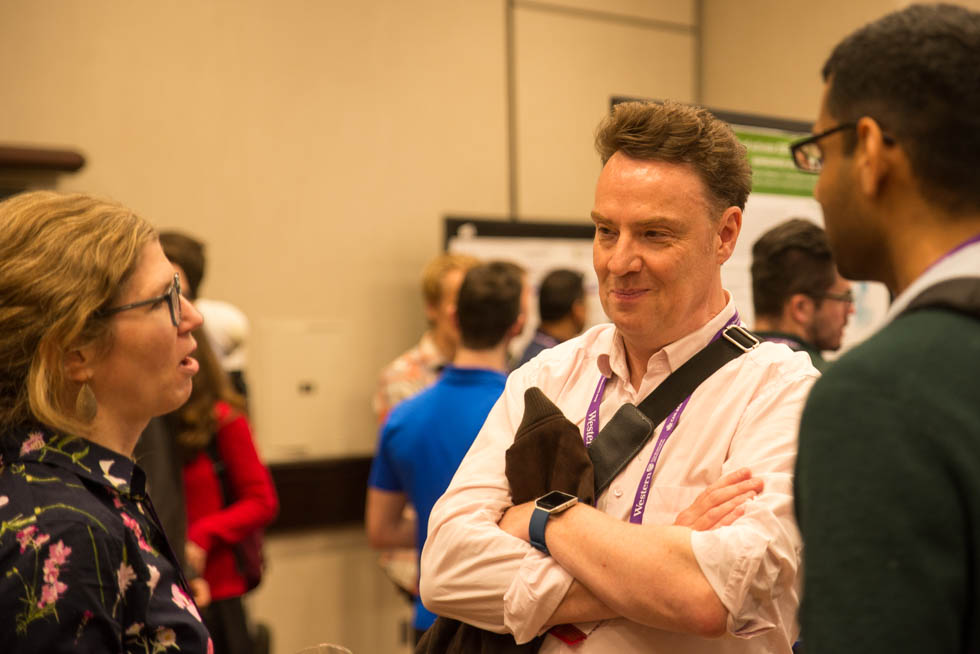 CAN2019 Poster session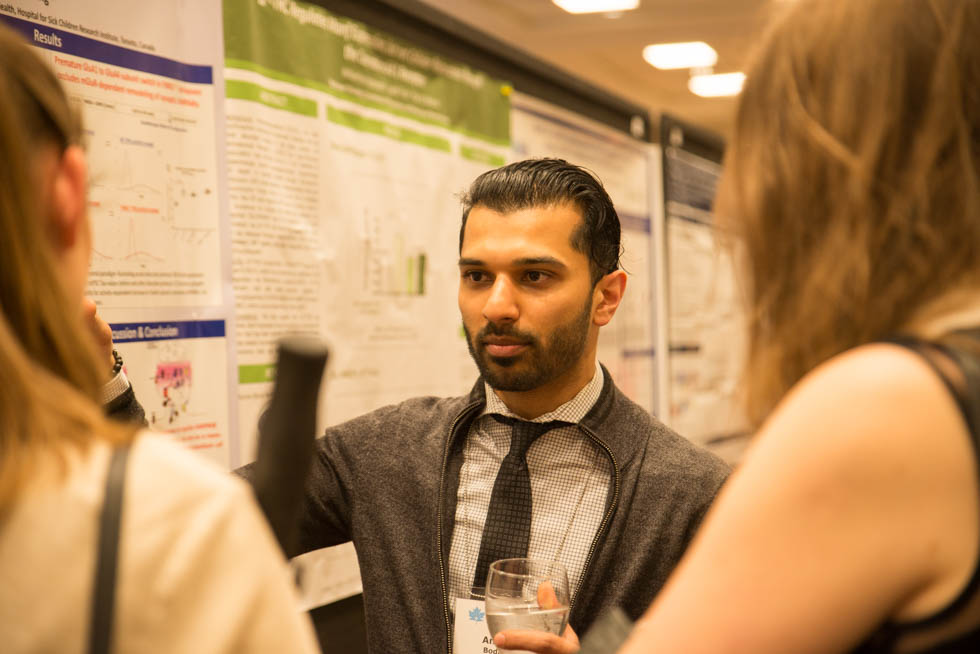 CAN2019 Poster session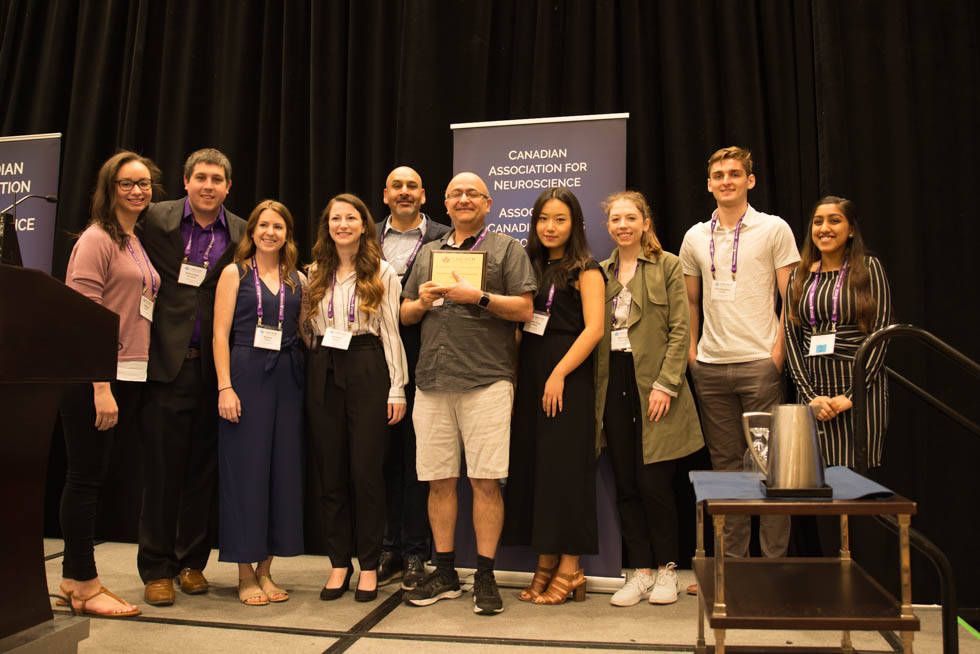 The Ottawa SfN Chapter, winners of the 2019 CAN outreach and advocacy award, with CAN President Jaideep Bains.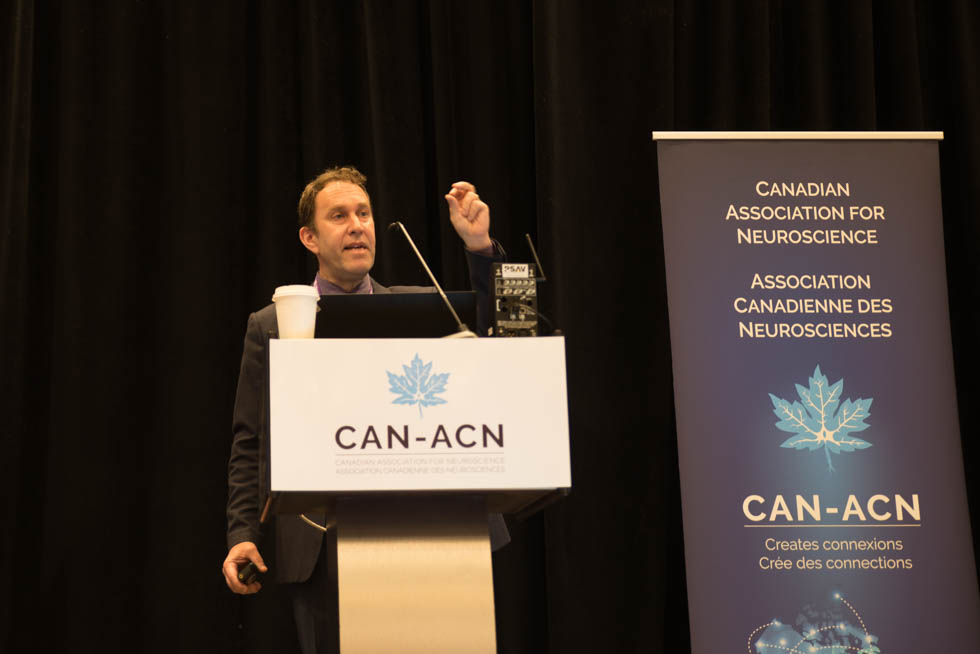 CAN2019 keynote lecture by Jeffrey Mogil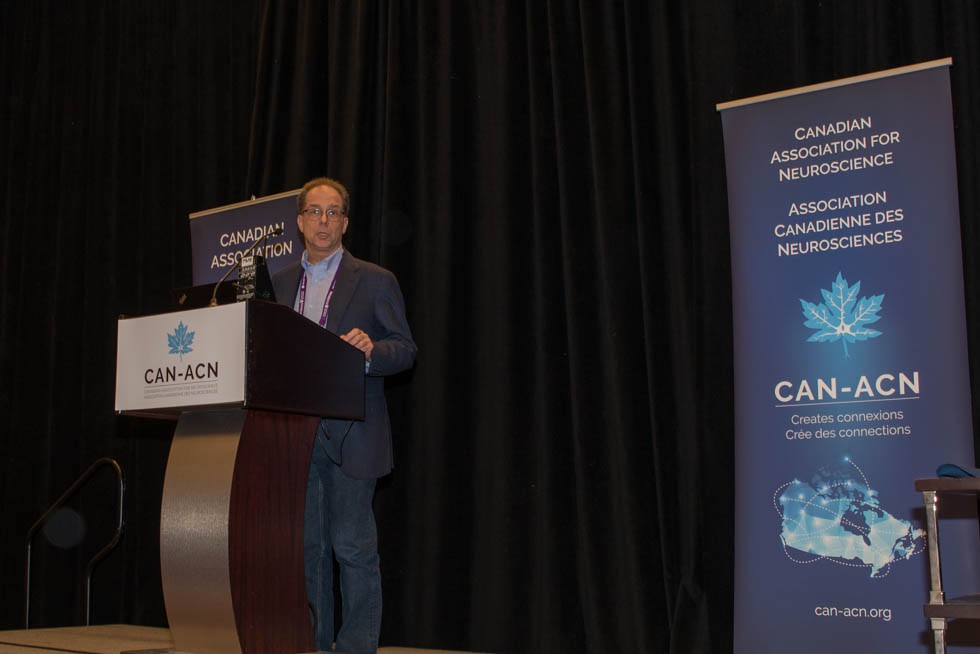 Sam Weiss, Scientific Director of CIHR's Institute of Neuroscience, Addiction and Mental Health adresses CAN2019 attendees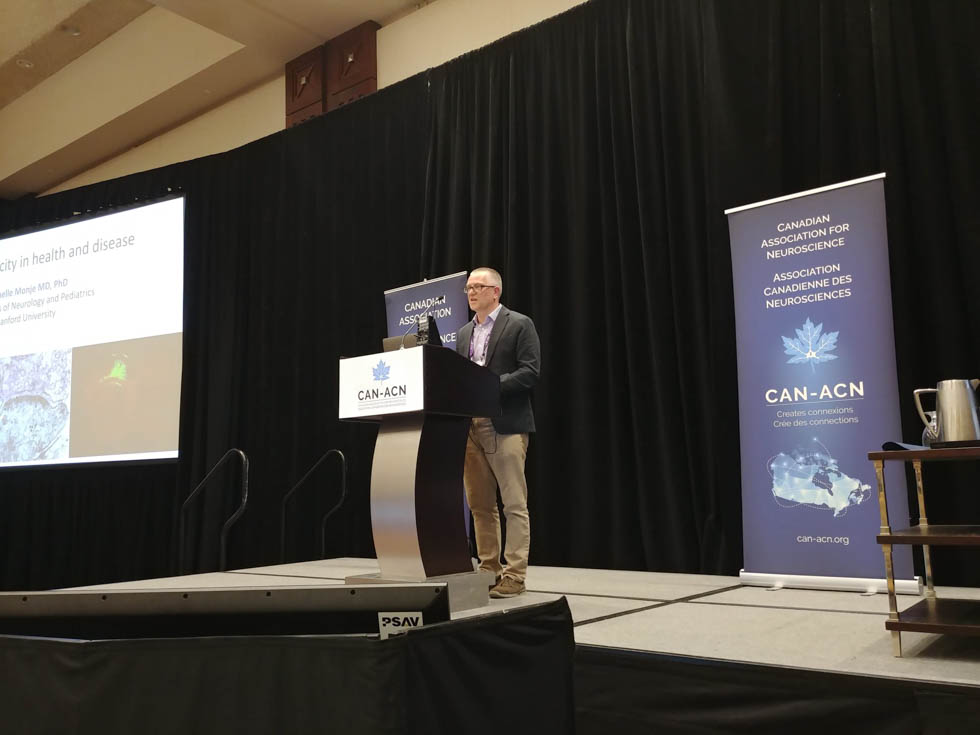 CAN2019 Scientific Program Chair Paul Frankland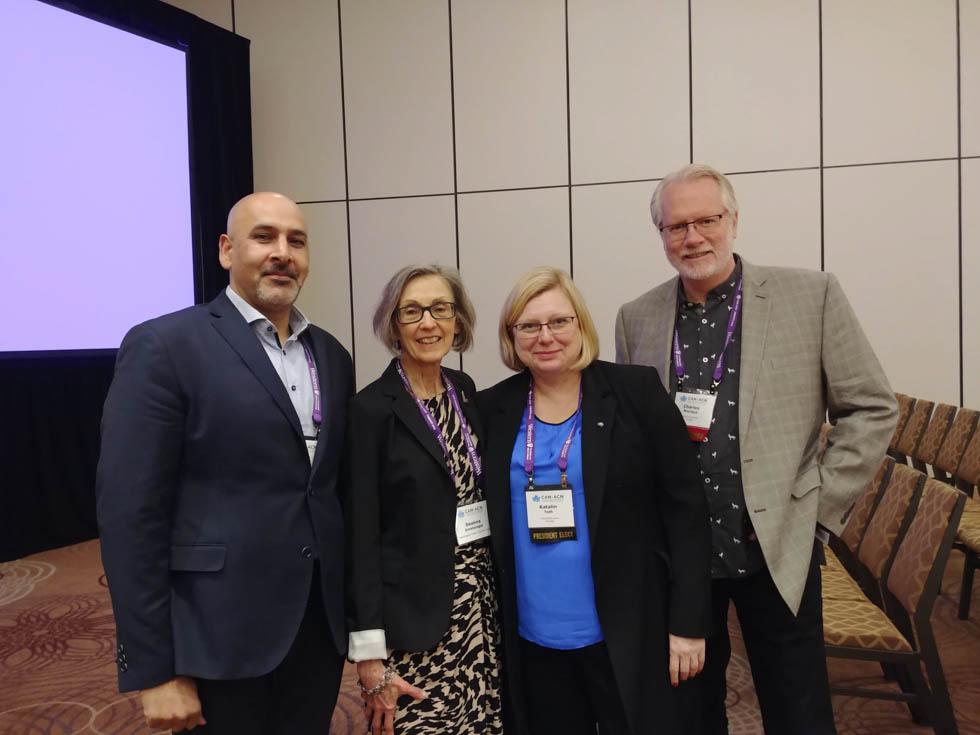 Jaideep Bains, Deanna Groetzinger (NHCC), Katalin Toth and Charles Bourque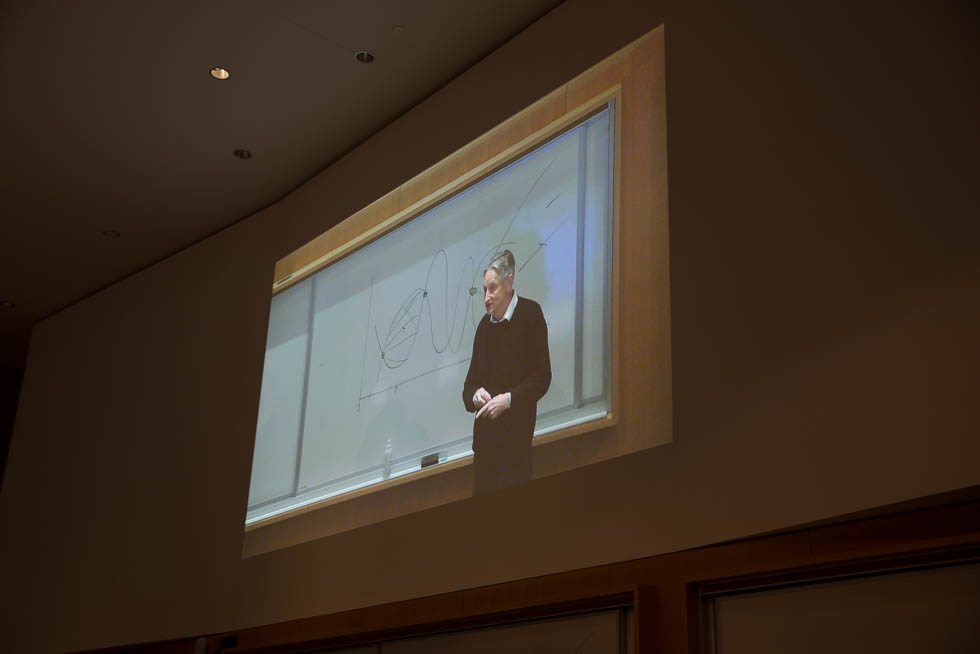 Public lecture by artificial intelligence expert Geoffrey Hinton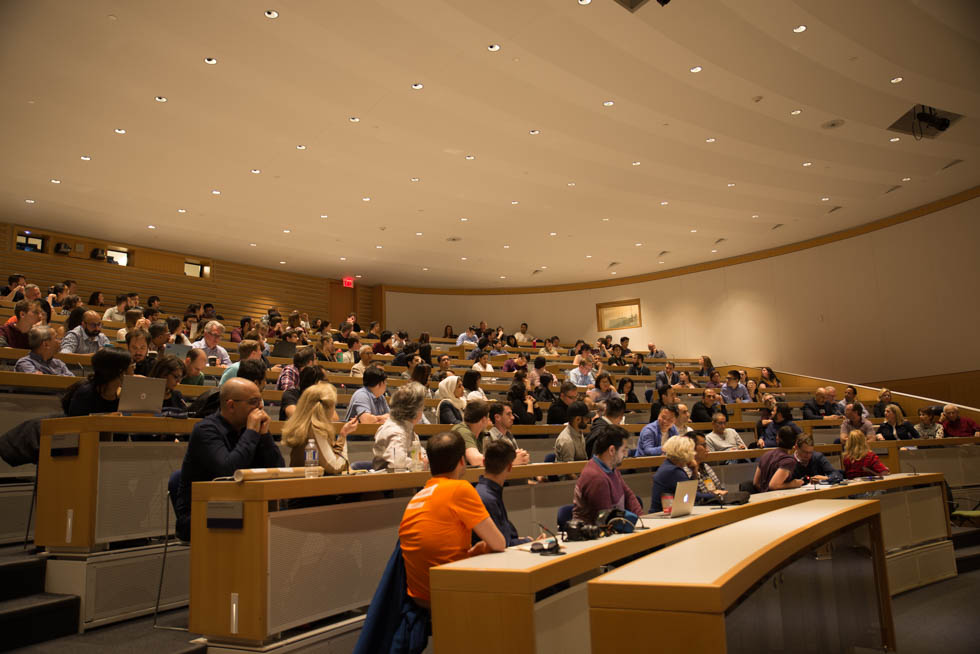 Public lecture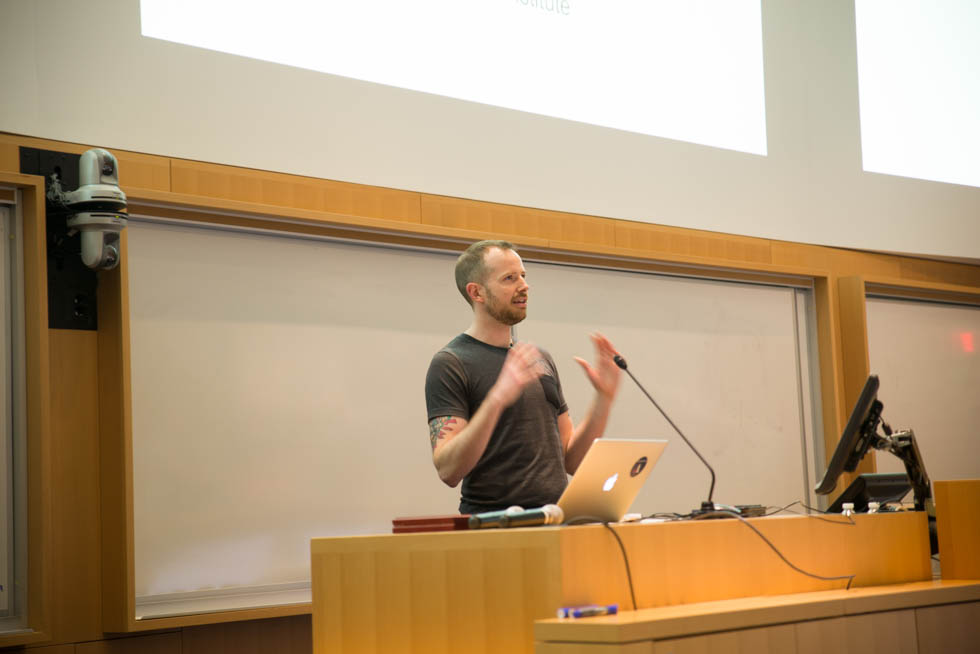 Blake Richards introduces Geoffrey Hinton at the 2019 Public lectures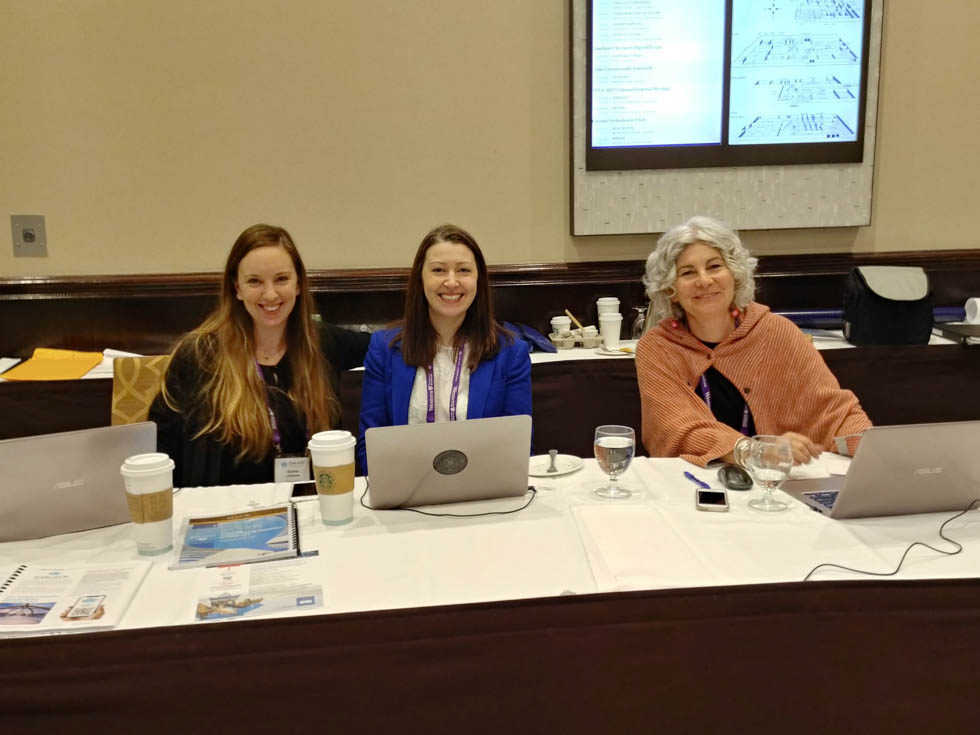 The Podium team, Alaina Laflamme, Jude Ross and Cendrine De Vis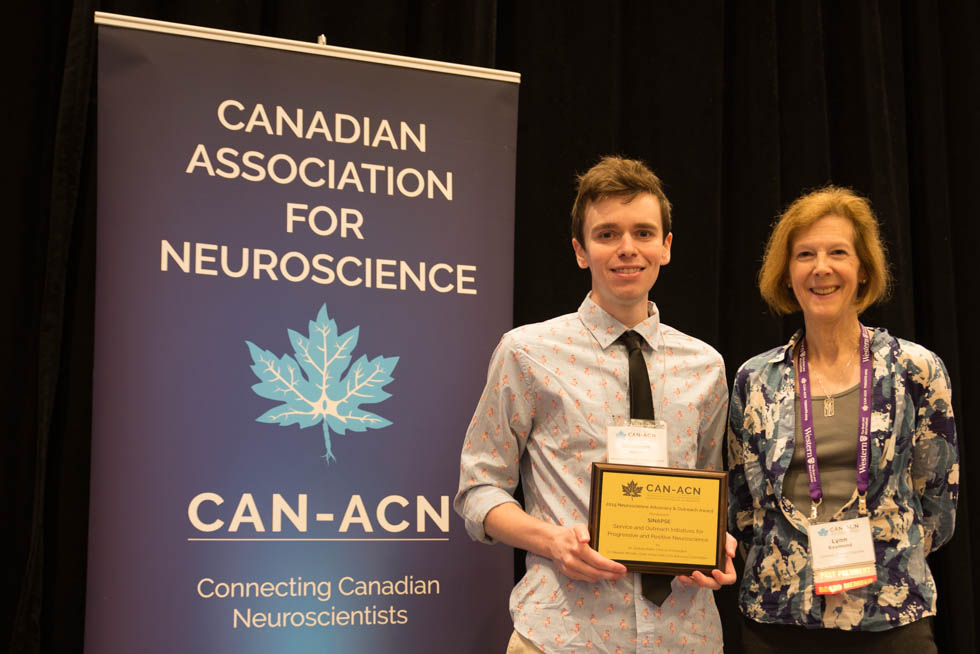 Lynn Raymond, Chair of the nominations committee, presents Shannon Waye with a CAN Outreach and Advocacy prize for the SINAPSE program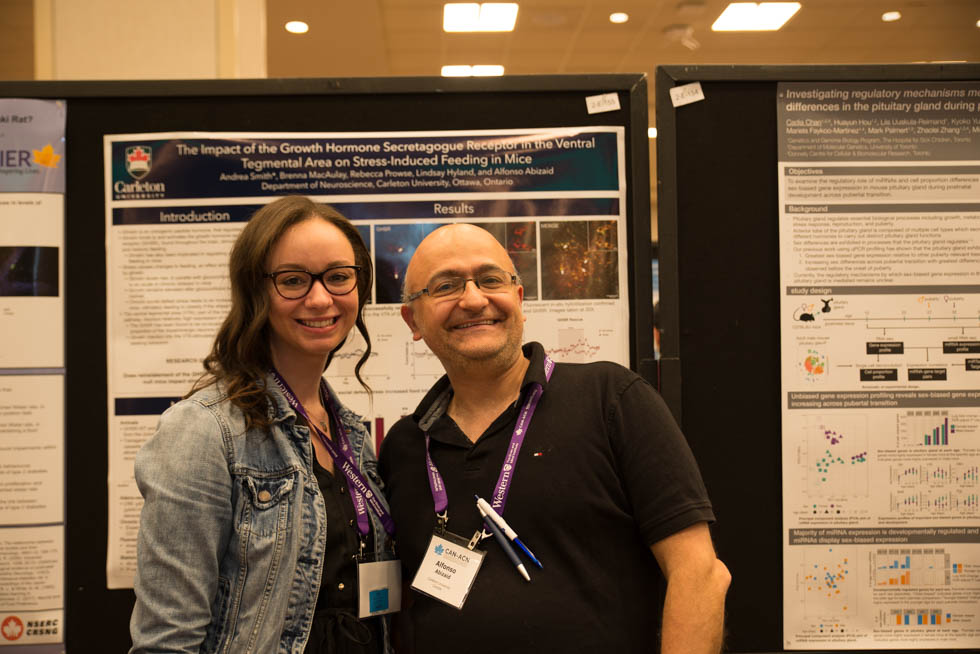 CAN2019 Poster session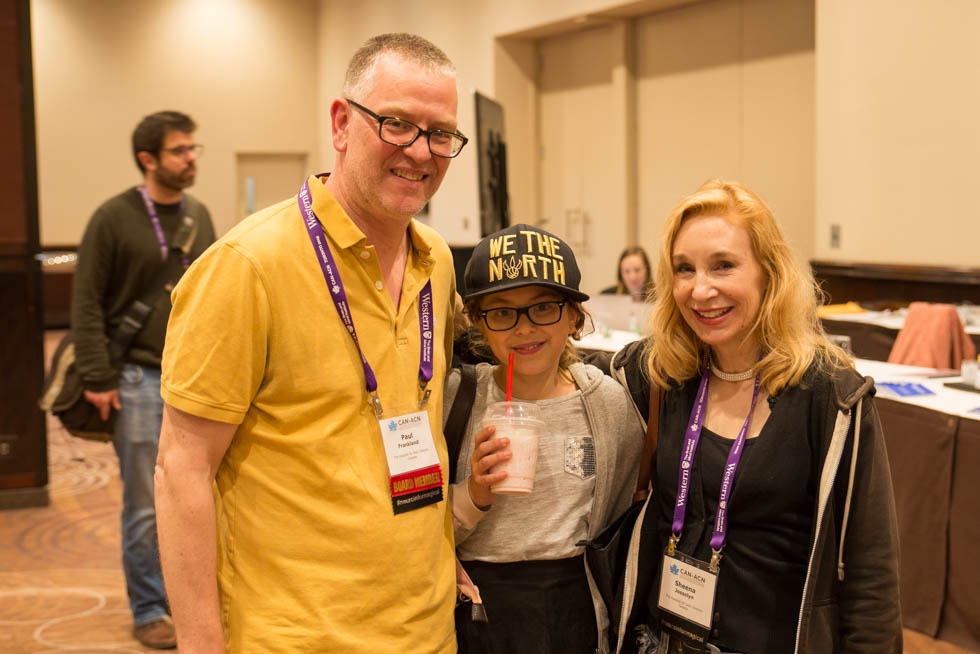 Paul Frankland, CAN2019 meeting chair, and family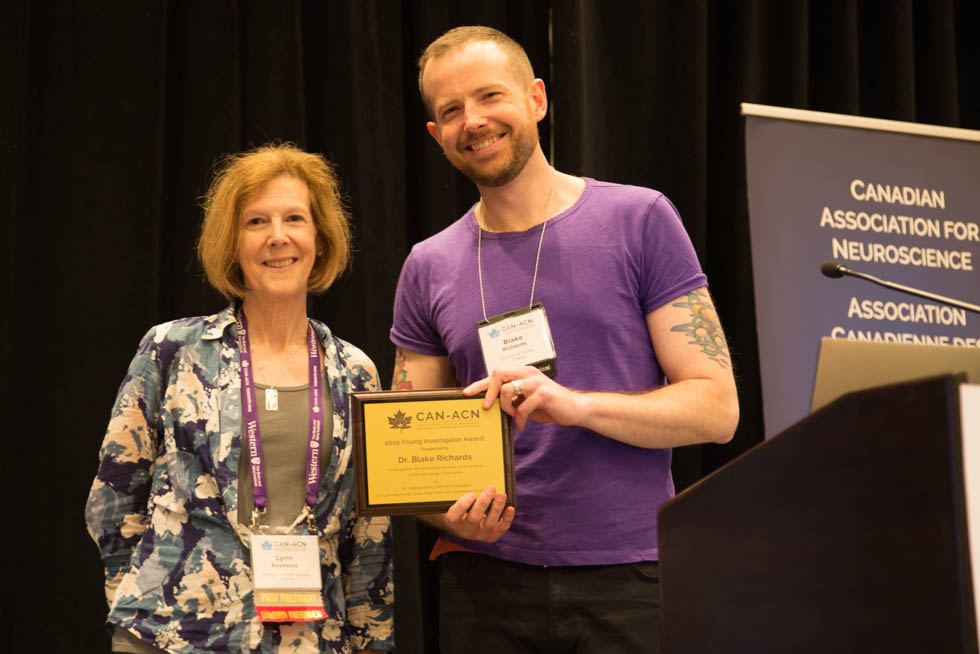 Blake Richards receives the 2019 CAN Young Investigator Award, from Lynn Raymond, Chair of the nominations committee
Congratulations to the 2019 Meeting Chair Paul Frankland and Co-Chair Ruth Slack on the great success of the 2019 Canadian Neuroscience Meeting in Toronto.  In addition to an excellent Scientific Program (thank you to all the members of the Scientific Program committee and our members who proposed parallel symposia) we would like to highlight a few notable events.
Public lecture by Geoffrey Hinton
The 2019 public lecture, by Geoffrey Hinton, and hosted by Blake Richards, took place Tuesday May 21 evening, in a sold-out auditorium. If you missed the lecture, we are happy to let you know that a recording is available on our YouTube Channel.  Learn more about the lecture and view the recording here:
https://can-acn.org/meeting-2019/2019-public-lecture-geoffrey-hinton/
CAN Advocacy awards:
CAN was very proud to give two 2019 CAN outreach and advocacy awards to two very deserving groups of neuroadvocates:
Ottawa SfN Chapter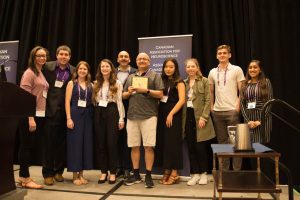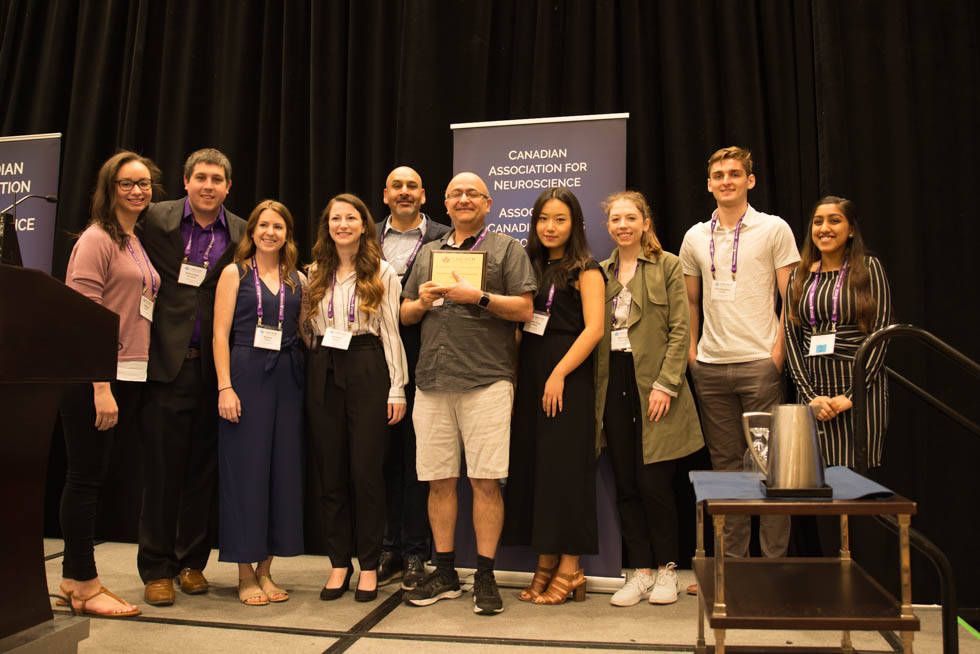 The Ottawa Chapter of the Society for Neuroscience has been awarded a 2019 CAN Neuroscience Outreach & Advocacy Award for their important and very successful knowledge transfer activities within the scientific community and to the public. The CAN Advocacy Committee was impressed by the large range of activities organised by the SfN Otttawa team, and the extent of their outreach to the Ottawa community. Their enthusiastic and relentless work has allowed them to very successfully promote the importance neuroscience research to a large audience. More:
https://can-acn.org/the-ottawa-sfn-chapter-wins-a-2019-can-neuroscience-outreach-advocacy-award/
SINAPSE team at Memorial University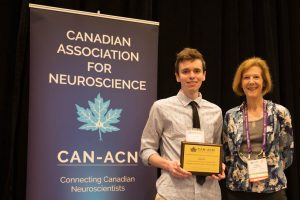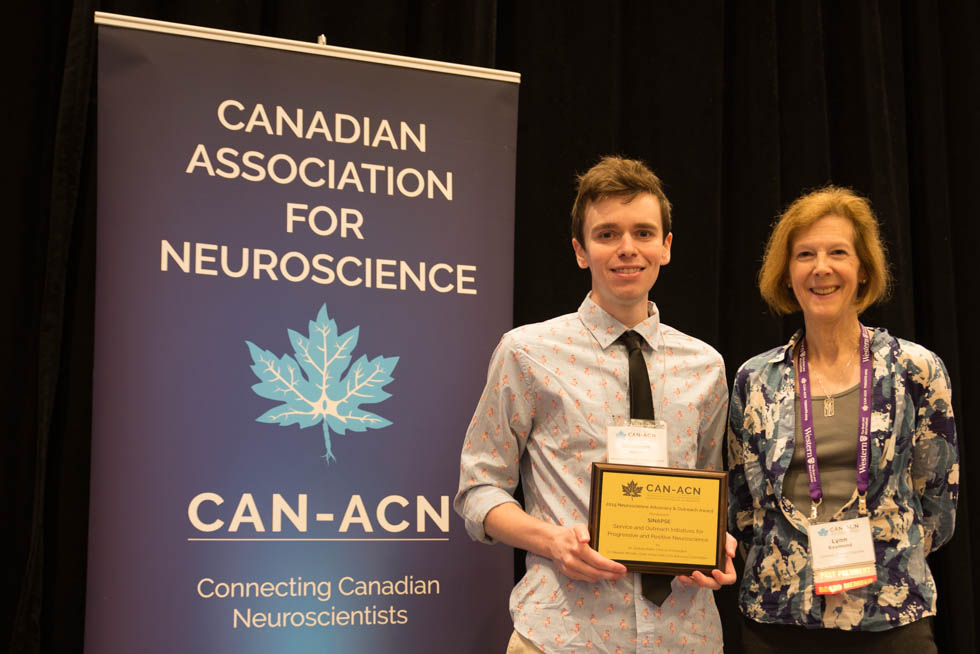 The CAN advocacy committee specifically noted the efforts of SINAPSE to use basic neuroscience knowledge to address societal issues, and the originality of their approach. More:
https://can-acn.org/sinapse-2019-can-outreach-and-advocacy-award/
Equity Diversity and Inclusion: Lecture by Imogen Coe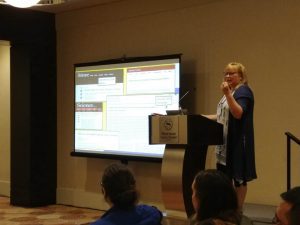 Dr. Imogen Coe was the invited speaker for the Equity, Diversity and Inclusion (EDI) luncheon at CAN2019.  Dr. Coe is a well-known Canadian advocate for EDI in Science, who has studied these questions in the Canadian context.
Dr. Coe has a list of data and resources to promote Equity, Diversity and Inclusion on her website: https://www.ryerson.ca/edistem/about/
CAN2019 Photo Album
View more photos of the meeting in our Flickr gallery
One of the biggest highlights of the CAN meeting is always the Poster presentations and lively discussion at the poster sessions – Thank you to all our members for your participation!
Finally, thank you to the Podium team for your support!
Next CAN Meeting: May 31 – June 3, 2020 | Hotel Bonaventure Montréal
Save the dates for the next CAN meeting, which will take place May 31 to June 3, 2020, in Montreal.
Visit the 2020 meeting webpage for the latest information and updates about the upcoming meeting:
https://can-acn.org/meeting-2020/
CAN 2020 Key dates
| | | |
| --- | --- | --- |
| | Begins | Ends |
| Hotel reservations at CAN preferred rate |  now | May 1, 2020 |
| Call for parallel symposia | October 4, 2019 | November 6, 2019 |
| Call for satellite meetings | October 4, 2019 | November 6, 2019 |
| Call for poster presentations | November 25, 2019 | January 31, 2020 |
| Call for Young Investigator Award nominations | November 25, 2019 | January 31, 2020 |
| Meeting registration (early-bird rate) | January 6, 2020 | March 30, 2020 |
Congratulations to our newly elected Board members
CAN Vice-President elect: Dr. Shernaz Bamji
(elected by acclamation)
Dr. Shernaz Bamji is a Full Professor in the Department of Cellular and Physiological Sciences at the University of British Columbia's Faculty of Medicine.
Dr. Bamji is a world-renowned scientist (>3500 citations) who is regularly invited to present at top international conferences (e.g. Gordon Research Conferences, IUPS) and to teach at elite international schools, such as the prestigious Neurobiology Course taught at the Marine Biological Laboratory in Woods Hole MA (2015-2017). She has published her studies in the field's top journals, including Nature Neuroscience, Neuron, Cell Metabolism, PNAS, Nature Communications and Cell Reports. Her work explores the fundamental mechanisms involved in the formation and stabilization of synapses, and how defects in such mechanisms may contribute to disease, notably Autism Spectrum Disorder. As such, Dr. Bamji's work features both basic and translational aspects, and involves approaches ranging from molecular/genetic to behavior. Her record of training is outstanding with some of her former trainees now occupying positions within academia (e.g. Dr. N. Wicks at Simon Fraser University), industry (e.g. Dr. Y. Sun at STEMCELL Technologies) and technology transfer organizations (e.g. Dr. A. Globa at MITACs).
Dr. Bamji's outstanding record of scientific accomplishment will bring high visibility and recognition to CAN's directorship. Moreover, the wide range of her scientific work, in terms of topic, relevance and experimental approaches, will project broad inclusivity to Canada's entire community of brain research specialists.
Dr. Bamji's hands-on experience with knowledge translation (e.g. as co-Lead of the international iTARGET initiative for translational work on Autism Spectrum Disorders) will expand the breath of new initiatives that could potentially be considered by CAN's Board and thus enhance the organization's contributions to the support of Canadian Neuroscience.
Dr. Bamji's international reputation and leadership as a scientist is well established by her outstanding record of productivity and Directorship of consortia such as iTARGET. This recognition is also unequivocal at the national level. For example, she currently serves as a member of UBC's Innovation and Creativity Working Group which contributes to the development objectives, strategies, and actions to implement the university's Strategic plan. Dr. Bamji also serves on peer-review committees for funding agencies including the Canadian Institutes of Health Research (CIHR). As a person who occupies posts of key importance for the Canadian Neuroscience community, and who is informed of relevant developments at the national level, Dr. Bamji will be in an optimal position to serve as Vice-President and President of CAN.
Finally, Dr. Bamji has been a member of CAN for over 12 years and a member of CAN's Board of Directors since 2014. As such, she is extremely well informed on the recent history and current affairs of CAN, which is a rich asset for CAN. She has also participated at a high level in the organization and success of several of CAN's recent Annual Meetings. For example, she served as a member of the Scientific Program Committee for CAN 2014 held in Montreal. Moreover, she served as Vice-Chair of CAN 2017 (Montreal) and Chair of CAN 2018 (Vancouver). Her extensive experience in the organization of the CAN meeting is a significant asset, and her presence and service on the CAN Board is characterized by a dynamic and thoughtful input.
It is with great enthusiam that we welcome Dr. Shernaz Bamji to the position of next VP-elect of CAN.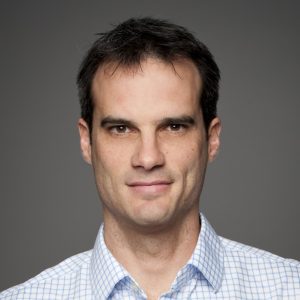 CAN Secretary-elect: Dr. Jean-Claude Béïque
Dr. Béïque received his Ph.D. from McGill University and is currently Full Professor in the Department of Cellular and Molecular Medicine at the University of Ottawa. He is an outstanding researcher who seeks to understand synapses are modified, how these modifications shift connectivity features of these neural networks and, how changes in these features may contribute to behavioural dysfunctions in preclinical models of stroke and affective disorders.
In addition to his scientific accomplishments, Dr. Béïque is also an experienced and active contributor to the academy. He holds a number of important positions at the University of Ottawa (Scientific Advisory Committee for the Ottawa Brain and Mind Institute, Mentoring Committee for Junior Faculty), serves on multiple review panels (CIHR, international grant panels), and is currently a Reviewing Editor at The Journal of
Physiology. He is also a key member of the Canadian Neurophotonics Platform, serving as Chair of the Neurophotonics Satellite at the CAN meeting in 2019.
Jean-Claude is a sitting member of the Board of Directors for CAN. This, combined with his other experiences provide him with the attributes necessary to take on an Executive position at CAN. It is clear that Dr. Béïque is committed to the organization and is willing to take on the workload that the position of Secretary will demand. Importantly, he will provide a balanced, but critical voice on a wide array of topics that are important to the Canadian neuroscience community. His high level of rigour, candor and thoughtfulness around key decisions will be of great benefit to CAN.
We are happy to welcome Jean-Claude Béïque to the position of Secretary for the Canadian Association for Neuroscience.
Board members:
Steven A. Prescott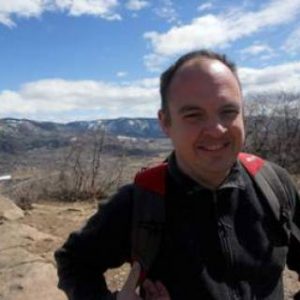 Steve Prescott is a Senior Scientist at SickKids and an Associate Professor at the University of Toronto. His lab synergistically combines experiments and computer simulations to study the biophysical basis of neural coding (http://prescottlab.ca). Though also trained as a clinician, he has dedicated his career to studying fundamental neurobiological mechanisms with a particular focus on how abnormal coding of somatosensory information causes chronic pain. He leads the Neuroscience Platform within the Department of Physiology at UofT and serves on the Scientific Advisory Board of Boston Scientific and on the Program Committee of the Organization for Computational Neurosciences. He looks forward to bringing his experience and energy to the CAN Board.
Majid H. Mohajerani
Majid H. Mohajerani, PhD, is an associate professor at the Canadian Centre for Behavioural Neuroscience, the University of Lethbridge with a research focus on neural dynamics with particular emphasis on sensorimotor integration and memory systems. He combines optical imaging, electrophysiology, behavioural methods and computational tools to study how different brain areas communicate with one another and how (a) memory is encoded and consolidated or (b) motor movement are generated based on sensory inputs.
Opportunities
SfN training: Stem Cells and Reprogramming Methods for Neuroscience
SfN has launched a new training series, Stem Cells and Reprogramming Methods for Neuroscience, developed by 14 leading experts in the field.  The training modules complement a virtual conference, Next Generation Human Disease Models in Neuroscience.  Both are available on the Neuronline platform:
https://neuronline.sfn.org/Collections/Stem-Cells-and-Reprogramming-Methods-for-Neuroscience
Meta collaboration at CAN2019 meeting
The Canadian Association for Neuroscience partnered with
the Chan Zuckerberg Initiative's Meta
to create custom feeds tailored specifically to the CAN meeting tracks.  Feeds are sets of research papers covering combinations of concepts, researchers, genes, proteins, procedures, and more. Meta uses artificial intelligence to compile these feeds, which include full coverage of PubMed and bioRxiv. You are invited to visit 
https://meta.org/can2019
. From there, you can choose the conference topics that interest you most and get started with Meta.
Neurojobs and other opportunities
Employment and funding opportunities are posted on the CAN website on a regular basis.  Visit the Neurojobs webpage to see the latest advertisements by category: https://can-acn.org/neuro-jobs/
Posting advertisements is free for our members – Submit an ad today