Date: Tuesday, May 21, 2019 | 6:30PM – 8:00PM
Location:  SickKids Peter Gilgan Centre for Research and Learning Auditorium
Host: Dr. Blake Richards, University of Toronto
Schedule:
6:30 Welcome message and Introductory remarks for session by Dr. Paul Frankland
6:32 Introduction from session chair Dr. Blake Richards
6:35 Public Lecture (30 mins) Dr. Geoffrey Hinton
7:05-~7:25 pm   Fireside chat (Richards and Hinton)
7:25-~7:45 pm   Audience Q and A (chaired by Richards)
About Geoffrey Hinton
Professor Emeritus, Department of Computer Science, University of Toronto
VP Engineering fellow at Google
Geoffrey Hinton is a leader in artificial intelligence who designs machine learning algorithms. "I want to understand how the brain computes" explained Hinton in an interview for the University of Toronto.
His research aims to discover a learning procedure that is efficient at finding complex structure in large, high-dimensional datasets and to show that this is how the brain learns to see. He has been called the godfather of deep learning, which is a form of artificial intelligence that mimics the human brain.
Read recent profiles of professor Hinton
https://www.utoronto.ca/news/u-t-geoffrey-hinton-ai-will-eventually-surpass-human-brain-getting-jokes-could-take-time
https://torontolife.com/tech/ai-superstars-google-facebook-apple-studied-guy/
In March 2019, the Association for Computing Machinery, the world's largest society of computing professionals, announced that Dr. Hinton, along with colleagues Joshua Bengio from Université de Montréal and Yann LeCun at New York University,  had won this year's Turing Award for their work on neural networks. The Turing Award, which was introduced in 1966, is often called the Nobel Prize of computing, and it includes a $1 million prize, which the three scientists will share.
Read more
Share a slide about this event: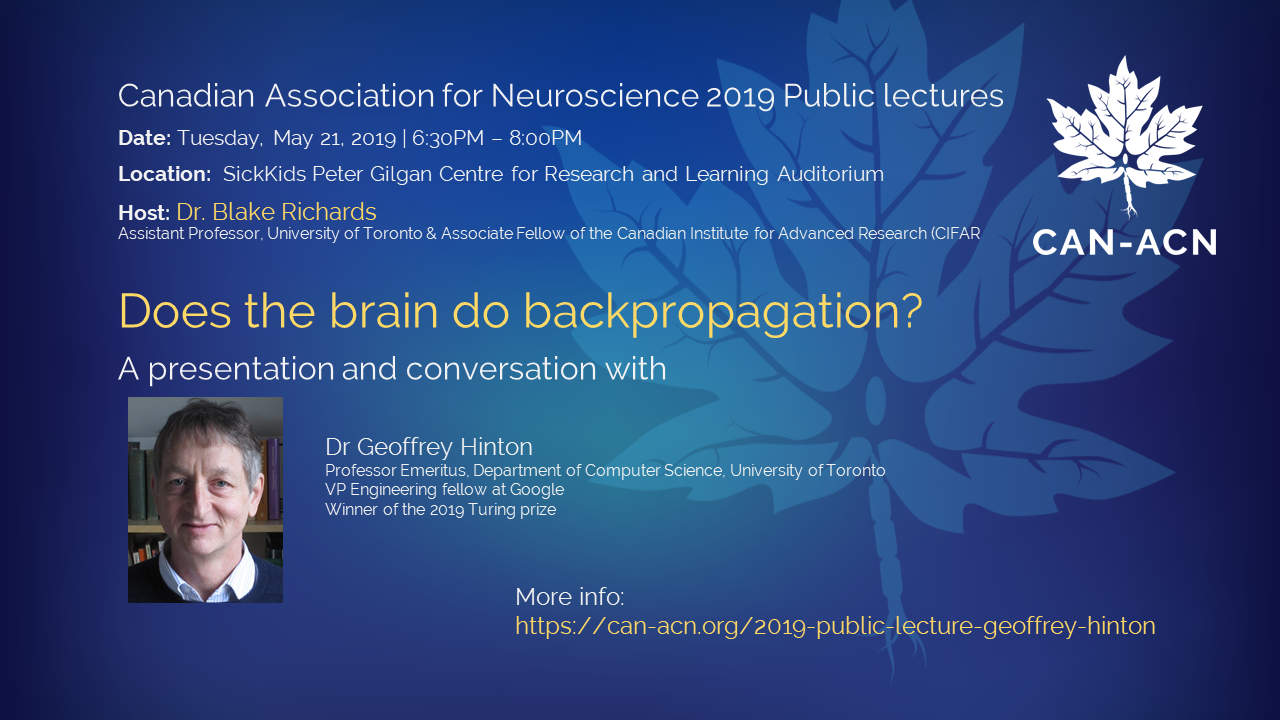 Back to the 2019 speakers page