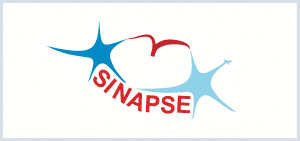 The Canadian Association for Neuroscience is proud to announce that SINAPSE (Service and Outreach Initiatives for Progressive and Positive Neuroscience) will be awarded a 2019 CAN outreach and advocacy award at the CAN 2019 meeting in Toronto. The CAN advocacy committee specifically noted the efforts of SINAPSE to use basic neuroscience knowledge to address societal issues, and the originality of their approach.
"Synapse" means to connect. A group of undergraduate and graduate students at Memorial University of Newfoundland's Psychology Department, and their mentor, have given this perennial word a richer meaning. Joshua Conway, Shannon Waye, Nageeb Hasan, Courtney Clarke, Rachel Noel, Tristian Critch and Brad Furlong, with the guidance and direction of their mentor and assistant professor, Dr. Francis Bambico, founded a neuroscience-driven advocacy team called Service and Outreach Initiatives for Progressive and Positive Neuroscience or SINAPSE in short. SINAPSE has allowed this group of students to connect far, beyond the walls of their laboratory at Memorial University.
The mission of the SINAPSE team is to participate in local institutional (such as at Memorial) and international efforts in promoting mental health and brain awareness, such as assisting in the organization of neuroscience competitions, science outreach and brain awareness-related activities. SINAPSE organizes out-of-the-country outreach missions, through fundraising efforts, generous donations and personal funds, that will have some of them travel to developing countries, notably in Asia. These initiatives will forge networks with host NGOs and academic institutions, and stimulate and deliver rational, science-based but culturally sensitive conversations about mental health and illness, dispel misconceptions and superstition and eliminate the stigmatization of the mentally ill. One of the main target communities are the marginalized, rural areas, where misconceptions about mental illness are still prevalent, and heavily influenced by domestic religio-spiritual worldviews that may prevent good and ethical health practices. The team also organizes similar venues in upscale academic, civic/municipal and non-government agencies in collaboration with local contingents and institutional networks and representatives. Such venues foster mutual opportunities for research or knowledge exchange about the socio-political and epidemiological landscapes as they pertain to community mental health, which then can be used to lobby for policy change in a culturally sensitive manner.
In 2018, the team was invited to conduct an outreach mission in the Philippines and Vietnam through SINAPSE's mentor-adviser, Dr. Francis Bambico, who is a Filipino-Canadian. This is in light of the international call by Philippine academic, advocacy and pro-human rights circles to prompt critical discussion about sensitive aspects of the incumbent Philippine government anti-drug campaign, and participate in lobbying for human rights-related concerns. Since 2018, before embarking on this outreach mission, the SINAPSE team, led by Joshua Conway, carried out extensive in-house research – including epidemiological and statistical – about Philippine culture, mental health system, political climate and the state of neuroscience in academia and health systems. In February 2019, the SINAPSE contingent composed of Joshua Conway (St. John's), Dr. Francis Bambico (St. John's/Toronto) and Tim Grassin (Montréal/Toronto) were in the Philippines for this outreach. With the support of local collaborators and advisers, they delivered a one-week program composed of talks, workshops and educational forums on depression, addiction and neuroscience (see pictures). There were three major sites: (a) an upscale/middle-class school (Claret School of Quezon City, staff and some students), (b) a provincial school (Tagaytay City Hight School, staff) and (c) a low-scale/grassroots community in Novaliches, Philippines (public, community members).
SINAPSE's outreach missions constitute a unique initiative, through which Canadian neuroscientists aim to share current knowledge about the biological bases of addiction and mental illness. Such outreach activities help combat the persecution and stigmatization of people who suffer from these illnesses in countries where biomedical information about these conditions is lacking in the general population and the political leadership.
SINAPSE increases awareness about the cross-cultural implications of neuroscience-related outreach initiatives and what can be learned from it. The SINAPSE international missions also foster discussion about the role of Canadian neuroscientists in promoting socially relevant, neuroscience-based dialogues with our international counterparts.
For all these reasons, the Canadian Association for Neuroscience is very proud to give the SINAPSE project a 2019 CAN Outreach and Advocacy Award.
Congratulations to the SINAPSE Team members and participants
SINAPSE coordinators: Joshua Conway (co-founder) and Shannon Waye (Memorial University of Newfoundland)
SINAPSE adviser: Dr. Francis Bambico (Memorial University of Newfoundland, CAMH Toronto)
SINAPSE 2018-2019 members: Nageeb Hasan, Courtney Clarke, Rachel Noel, Tristian Critch, Brad Furlong, Scott Atkinson (Memorial University of Newfoundland)
External adviser: Dr. Stefano Comai (Vita-Salute San Raffaele University, Milan)
Philippine mission collaborators: Dr. Raul Navarro (University of the Philippines), Prof. Mitch Alcantara (University of the Philippines), Timothee Grassin (Montreal/Toronto, Entrepreneur, Philippines)
Website: https://www.facebook.com/groups/285199215718871/