CAN participation in the advocacy reception at SfN18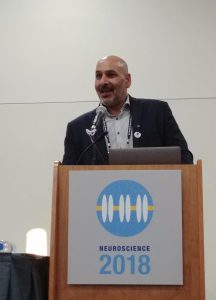 CAN President Jaideep Bains was invited to present CAN Advocacy efforts at the advocacy reception at SfN18 in San Diego, California.
CAN advocacy officer Julie Poupart presented a poster on Neuroscience advocacy strategies in Canada. View the poster here: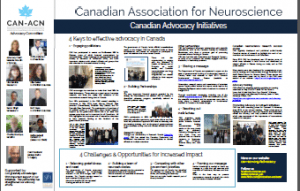 ---
Opportunities to participate in #yourbudget2019 consultations of the the FINA committee of the House of Commons.
The permanent committee on Finances of the House of Commons of Canada have announced dates of the in-person consultations in advance of Budget 2019.
These are great opportunities to highlight the importance of increased funding for health research in Canada, and supporting the next generation of scientists.
The first is in Ottawa, Sept 26th at 6:45. Details here.
Other dates include
1 October: Charlottetown, Prince Edward Island
2 October: Saint John, New Brunswick
3 October: Québec City, Quebec
4 October: Oshawa, Ontario
5 October: Toronto, Ontario
15 October: Whitehorse, Yukon
16 October: Victoria, British Columbia
17 October: Edmonton, Alberta
18 October: Winnipeg, Manitoba.
http://www.ourcommons.ca/DocumentViewer/en/42-1/FINA/news-release/10008777
Exact locations and hours are posted on the FINA committee website a few days in advance.
http://www.ourcommons.ca/Committees/en/FINA
---
2018-08-03: Read CAN-ACN's submission to the House of Commons Standing Committee on Finance for the consultations in advance of budget 2019, calling for increased investment in the three main granting councils of Canada and in the next generation of Canadian scientists.
https://can-acn.org/documents/2018/CAN-FINA-submission-final-20180803.pdf
---
SfN feature on CAN advocacy
Read an article in SfN's Neuroscience Quarterly on CAN's advocacy efforts: http://www.sfn.org/news-and-calendar/neuroscience-quarterly/summer-2018/can
---
Science Policy Session at CAN2018 in Vancouver
https://can-acn.org/science-policy-session
---
Response to budget 2018
Read our response to budget 2018 here:
https://can-acn.org/budget2018
Read our letter to Ministers Duncan, Morneau and Trudeau here:
https://can-acn.org/documents/2018/CAN-budget2018-thankyou-final.pdf
Read our thank you letter to our members:
Thank you to CAN members and colleagues