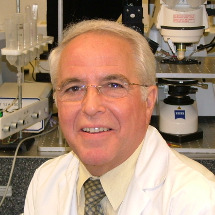 Leo Renaud, MD, PhD, FRCPC, FRSC
Leo Renaud graduated in Medicine from the University of Ottawa in 1965. After clinical and basic research training at McGill University that included a PhD in Neurophysiology in Professor Kresimir Krnjevic's lab, he joined McGill's Dept of Neurology & Neurosurgery in 1973 and was based at the Montreal General Hospital.
As an MRC Scholar and a founding member of the Centre for Research in Neuroscience, he balanced his time between clinical neurophysiology (EEG and EMG clinics) and the development of an internationally recognized basic neuroscience team focused on neuropeptides and on synaptic transmission in hypothalamic neurosecretory neurons. Rising through the ranks, he achieved full Professorship at McGill in 1981.
In 1990, he accepted the offer to assist in the development of clinical and basic neuroscience at the University of Ottawa as Director of Neurology and Neurosciences at the Civic Hospital site. After hospital merger, he continued at The Ottawa Hospital to mentor and support researchers in the Department of Medicine while continuing his own basic research in neurotransmission and neuropeptides as Senior Scientist (Neuroscience Program) and Associate Director of the Ottawa Hospital Research Institute (http://www.ohri.ca/Profiles/renaud.asp).
Dr Renaud credits the efforts of many trainees, postdocs, colleagues and international visitors, and the sustained operating and salary support from granting councils for the successes attained during an exciting career in neuroscience.
Distinctions:
2009- Professor Emeritus, Department of Medicine (Neurology), University of Ottawa
2005- J David Grimes / GSK / CIHR / uOttawa Research Chair
2005- Distinguished Scientist Award, Canadian Society of Clinical Investigation
2005- Biomedical Science Ambassador Award, FCIHR; Partners in Research
2005- University of Ottawa Alumni, Faculty of Medicine, University of Ottawa
2003- Award of Excellence, University of Ottawa, Faculty of Medicine
2002- Career Achievement Award, Ottawa Life Sciences Council
2001- J David Grimes Career Achievement Award, Ottawa Hospital Foundation
2000- Fellow, Royal Society of Canada
1998- Sarrazin Lecturer, Canadian Physiological Society
1995- MRC Distinguished Scientist award
1992- President- Canadian Physiological Society
1991- President, Canadian Association for Neuroscience
1984- Medal in Medicine, Royal College Physicians & Surgeons of Canada
1978- Fellow Royal College of Physicians and Surgeons of Canada
Most influential publications:
KRNJEVIC, K., PUMAIN, R. AND RENAUD, L. The mechanisms of excitation by acetyl¬choline in the cerebral cortex. J. Physiol. 215: 247 268, 1971.
RENAUD, L.P., BLUME, H.W., PITTMAN, Q.J., LAMOUR, Y. AND TAN, A.T. Thyrotropin releasing hormone (TRH) selectively depresses glutamate excitation of cerebral cortical neurons. Science 205: 1275 1277, 1979.
BOURQUE, C.W., RANDLE, J.C.R. AND RENAUD, L.P. Calcium-dependent potassium conductance in rat supraoptic nucleus neurosecretory neurons. J. Neurophysiol. 54: 1375 1382, 1985.
JHAMANDAS, J. AND RENAUD, L.P. A gamma-aminobutyric-acid-mediated baroreceptor input to supraoptic vasopressin neurones in the rat. J. Physiol. 381: 595-606, 1986.
RENAUD, L.P. AND BOURQUE, C.W. Neurophysiology and neuropharmacology of hypothalmic magnocellular neurons secreting vasopressin and oxytocin. Prog. Neurobiol. 36: 131-169, 1991.
BUIJS, R.M. HOU, Y-X., SHINN, S, AND RENAUD, L.P. Ultrastructural evidence for intra-and extranuclear projections of GABAergic neurons of the suprachiasmatic nucleus. J. Comp. Neurol. 240: 381-391, 1994
WILSON, J.M.M., CODERRE, E., RENAUD, L.P. AND SPANSWICK, D. Active and passive membrane properties of rat sympathetic preganglionic neurones innervating the adrenal medulla. J. Physiol., 545: 945-960, 2002
RICHTER, T.A., KOLAJ, M. AND RENAUD, L.P. Low voltage-activated Ca2+ channels are coupled to Ca2+-induced Ca2+ release in intralaminar thalamic neurons. J. Neurosci. 25: 8267-8271, 2005
ZHANG, L., KOLAJ, M. AND RENAUD, L.P. Ca2+- dependent and Na+- dependent K+ conductances contribute to a slow AHP in thalamic paraventricular nucleus neurons: a novel target for orexin receptors. J Neurophysiol 104: 2052-2062, 2010