Jon Stoessl, CM, MD, FRCPC, FAAN
CAN2015 Public Lecture
The Clinic as Laboratory: Lessons from Parkinson's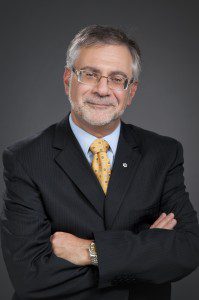 – Professor & Head of Neurology, University of British Columbia
– Co-Director of the Djavad Mowafaghian Centre for Brain Health at UBC & Vancouver Coastal Health
– Canada Research Chair in Parkinson (Tier 1)
– Vice-President of the World Parkinson coalition
– Board member of the International Association of Parkinsonism & Related Disorders
– Chair of the Mentoring Committee of the Parkinson Study Group
Dr. Stoessl's research aims to understand three basic questions:
What causes Parkinson's Disease?
What mechanisms contribute to the complications of longstanding Parkinson's Disease and its treatment?
How can we use Parkinson's Disease as a model to better understand the role of dopamine in the normal brain? We have a particular interest in the role of dopamine in signaling reward and its relevance to depression, impulse control problems and the placebo effect. We have shown that the placebo effect in Parkinson's Disease is mediated by dopamine release and suggested that this likely contributed to placebo effects in other conditions as well.
Dr. Stoessl's research involves the use of advanced imaging techniques to study Parkinson's disease and related disorders, including the use of imaging as a biomarker, the basis for complications of treatment and mechanisms of the placebo effect.
He has nearly 9500 citations and has published more than 270 papers and book chapters.
Learn more about Dr. Stoessl and his research on his profile page: Jon Stoessl at UBC Neuroscience