Short summary of the results of the
A survey held in July 2020 shows that research laboratories have been hit hard by the COVID-19 pandemic and the consequences of the physical distancing measures that were taken to combat the pandemic.
Research laboratories were completely closed for 3 months or more, and most are still not functioning at full capacity. Our survey showed that most researchers reported loss in at least one of the categories in the graph below.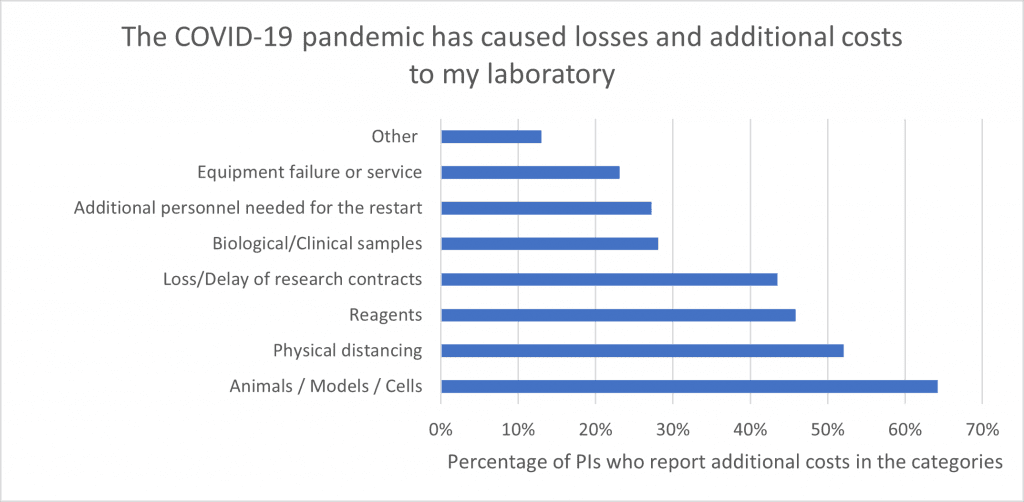 Loss of highly qualified personnel
Students, Staff members, Post-Doctoral fellows, Clinical fellows or visiting scientists were lost during the COVID pandemic (Relocation, leave of absence, loss of funding, etc.)
29% of PIs reported loss of 1 or more Paid Staff (Research Associates/Scientists, Research Technicians/Assistants)
24% reported loss of 1 or more Post-Doctoral Fellows
49% reported loss of 1 or more Students
 Loss of productivity
How many more studies (publications) do you expect your lab would have completed (i.e. paper submitted or resubmitted) if the pandemic had not occurred?
89% of PIs (302) reported the inability to complete and submit findings for publication (On average, this was 2.4 more studies.)
Loss of funding
Was any of the funding you expected to receive/applied for during 2020-21 cancelled or delayed?
42% of PIs (143) reported loss or delay in funding for 2020-21 because of the pandemic.
Estimated percent of budget required only for COVID recovery
To the question what percentage of your lab's annual budget will you need to spend solely to compensate for losses, restart and recovery of your operations? The average response was 27%