The Advocacy Committee of the Canadian Association of Neuroscience (CAN) is very proud to give BrainReach McGill the first CAN Advocacy & Outreach award in the best student initiative promoting neuroscience to the public category.
BrainReach McGill is an impressive group of neuroscience advocates and ambassadors. The Advocacy Committee was especially impressed by the level of organization, the number of students reached every year, and the availability of the BrainReach program outside of big urban centres. The prize will be given at the first CAN Advocacy and Outreach session at the 2016 Canadian Neuroscience Meeting, which will take place May 30th, at 5:30 PM in Toronto. You can find more information about this session on the CAN website: http://can-acn.org/can-advocacy-and-public-outreach
BrainReach / Mission: Cerveau
www.mcgill.ca/ipn/brainreach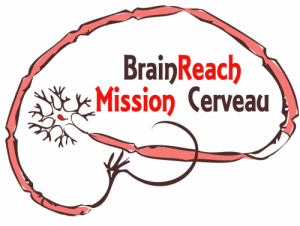 From the BrainReach website:
Neuroscience defines who and what we are; its study is ideal for engaging pupils – who are still discovering themselves, and exploring what and who they intend to become. Having enthusiastic young neuroscientists teach students allows them to share their passion for neuroscience and learning in general. Further, this becomes a valuable opportunity for graduate students to learn the art of teaching.

We want to extend the enthusiasm for science shown by our graduate students into Montreal's classrooms, and show these students that:

Science is interesting
Science is fun
Science is important
They can do it!
BrainReach / Mission: Cerveau is a neuroscience education advocacy program initiated and run by graduate students in the Integrated Program in Neuroscience (IPN) at McGill University in Montreal, Quebec. The program provides English- and French-language interactive neuroscience workshops and lessons to elementary and high school students in under-resourced schools in the Montreal area. Its new web-based component, BrainReach North (Mission: Cerveau Nord), expands the program to classrooms in rural northern Quebec. The goal of BrainReach is to make neuroscience fun and accessible for students throughout the province.
In participating elementary and high schools in the Montreal area, IPN graduate students visit a grade 4 or grade 9 classroom every month for a total of 8 visits per year. Each presentation is an original interactive workshop, with fun activities and many stimulating experiments, designed to introduce neuroscience topics and to capture the interest of students. Each month, volunteers present a different facet of neuroscience that is relevant to the students and that builds upon what they have learned in previous BrainReach sessions. The topics covered include the regions of the brain and their functions, the sensory systems, attention, memory, and many more.
BrainReach North adapts the BrainReach workshops for classroom teachers to deliver on their own. An online portal provides teachers with step-by-step lesson plans and materials, while the student volunteer team in Montreal provides enthusiastic, readily available phone and email support. This extension of the program allows BrainReach to reach students throughout Quebec, particularly in remote Indigenous communities where it is not feasible for volunteers to travel, and share the opportunity to explore neuroscience with students who may not have the same enrichment options as those in urban centres.
Neuroscience is a branch of science that is personally relatable to everyone, making it ideal for engaging students who are still discovering their interests and exploring their passions for future career paths. By introducing neuroscience at a young age, BrainReach aims to help students develop critical thinking skills and encourages them to become more inquisitive, thoughtful citizens. In addition to youth engagement, BrainReach also provides an opportunity for enthusiastic neuroscience graduate students to develop teaching skills while sharing their passion for neuroscience and for learning in general. Furthermore, BrainReach gives graduate students valuable experience communicating and advocating for neuroscience to a general audience, skills
which are crucial to bridge the gap between neuroscientists and the community as a whole.
Quick facts:
Years active: 2011 – present
2015-16 school year:
Graduate student volunteers: 72
Participating schools: 24
Participating elementary / high school students: 1100
Coordinators:
Falisha Karpati (falisha.karpati@mail.mcgill.ca)
Maxime Robert (maxime.robert@mail.mcgill.ca)
Kelly Smart (kelly.smart@mail.mcgill.ca)
Dr. Josephine Nalbantoglu (josephine.nalbantoglu@mcgill.ca)