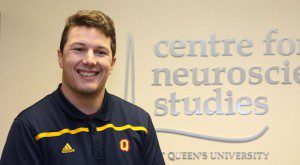 The Advocacy Committee of the Canadian Association of Neuroscience (CAN) is proud to announce it will highlight the achievements of Allen Champagne, student of neuroscience at Queen's University, by awarding him an honorable mention in the best student initiative promoting neuroscience to the public category. The Advocacy Committee was impressed with the relevance and importance of Allen Champagne's work to promote brain health to children and athletes, and the links between his personal experience as an athlete and scientist with his outreach initiatives.
Mr. Allen Champagne joined the Queen's neuroscience program in September 2015 in the lab of Dr. D.J. Cook. Allen completed his undergraduate degree with a Bachelor of Sciences from The University of North Caroline at Chapel Hill where he attended on a full football scholarship. Allen's MSc research focuses on investigating the relationship between underlying brain injury (microstructural and functional changes), cognitive impairments and motor deficits during the acute and recovery phases following a sport-related concussion. This involves using diffusion tensor imaging as a biomarker for the structural changes in the integrity of the connections in the brain (white matter) and cutting-edge robotics (KINARM) to quantify sensorimotor deficits post-injury such as balance, proprioceptive accuracy and reaction time.
In September, Allen co-launched CESAP (Concussion Education, Safety and Awareness Program) in the Neuroscience Outreach Program. The mission of CESAP is to empower athletes, parents, coaches on concussion injuries through evidence-based education and on field helmetless clinics. The goal is to build a bridge between athletics and sciences to improve players safety in sports through both education and behavior modification. This program offers both classroom sessions and on-field sessions. Since its inception, this program has had unprecedented success and media attention.
With almost 20 events scheduled in only 4 months, from January to April 2016, during which students and athletes are educated to modify their behaviour to protect their brain, the CESAP program has a very tangible impact on susceptible youth.
CESAP has also had amazing media attention:
In the paper:
http://www.queensjournal.ca/story/2016-01-15/sports/a-push-to-cut-out-concussions/
http://www.queensu.ca/gazette/stories/heads-approach-sports-safety
http://www.thewhig.com/2016/01/07/gaels-football-player-tackles-concussions
On TV:
http://www.ckwstv.com/2016/01/13/70566
http://www.ckwstv.com/2016/02/16/cesap-concussion-education-for-the-community/
http://www.station14.ca/video.html?id=3718
CBC radio @ 28 min:
http://podcast.cbc.ca/mp3/podcasts/ontariomorning_20160111_12454.mp3
Grad-chat:
http://www.queensu.ca/sgs/grad-chat