The Canadian Association for Neuroscience is immensely proud to present Dr. Tabrez J. Siddiqui, Associate Professor in the Department of Physiology and Pathophysiology at the University of Manitoba and a Principal Investigator at the Kleysen Institute for Advanced Medicine, with a CAN 2021 Young Investigator Award.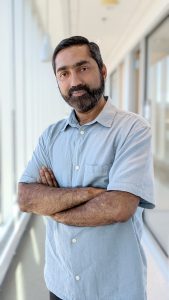 Dr. Tabrez J. Siddiqui has made important discoveries about how nerve cell connections known as synapses form and function in the developing and adult brain. Synapses are the fundamental units for information processing in the brain and they undergo morphological and functional changes in response to neural activity. These experience-dependent changes at synapses are critical for cognitive processes including learning and memory.  Dr. Siddiqui's research has uncovered mechanisms underlying the development, organization, and function of synapses with application to the understanding of neuropsychiatric disorders. To this end, his significant expertise in molecular, systems, and behavioural approaches allows him to investigate how certain synaptic proteins govern the growth, function, and remodeling of neural circuits. Extending on this work into the translational neuroscience realm, he has also developed preclinical animal models towards the identification of therapeutic targets for neurodevelopmental disorders like autism spectrum disorders and schizophrenia.
Dr. Siddiqui has made significant contributions in our understanding of the role of specific proteins, including leucine-rich repeat transmembrane proteins (LRRTMs) and neurexins, as synapse organizing molecules during synapse development. His most recent work to tease out the specific roles of synapse organizing proteins has the potential to provide molecular targets to treat multiple neurological conditions, including autism spectrum disorder, schizophrenia, and vision loss.
Dr. Siddiqui's recent discoveries capitalize on his expertise in a range of complementary methods (molecular biology, protein biochemistry, microscopy, generation of new mouse models, behavioural neuroscience etc.) to show that leucine-rich repeat transmembrane proteins (LRRTMs), a major focus of his work, regulate synapse organization through differential engagement of the pre-synaptic organizer proteins, neurexin and a receptor type protein tyrosine phosphatase (PTPσ). This work importantly identified a new and uncharacterized variant of neurexin, neurexin1γ as a potent synapse organizer. In another recent study, he demonstrated a new role for a protein called LRRTM4 in the assembly and function of the sensory circuit of the retina, thereby providing a mechanism to explain why LRRTM4 mutations have been associated with vision deficits. LRRTM4 has also been linked to cognitive impairments such as autism spectrum disorders, further evidence of the potential wide impact of the study of this important protein.
Another protein of interest in the Siddiqui laboratory, called LRRTM1, is strongly associated with schizophrenia and expressed in a brain region called the thalamus. Dr. Siddiqui's team recently showed that reduction of the strength of synapses in this specific area of the brain by reduction in LRRTM1 activity could account for cognitive, social and sensorimotor deficits reminiscent of schizophrenia.  He further proposed that LRRTM1 and its interactome are potential targets for therapeutic intervention in a subset of schizophrenia patients.
Throughout his training and while establishing his own lab Tabrez Siddiqui has built a track record of addressing and answering impactful research questions that significantly advance his field of synapse formation while serving as a terrific role model, mentor and leader.

-Alyson Fournier, PhD, Associate Director of Academic Affairs and Professor, Department of Neurology and Neurosurgery, McGill University
The success of Dr. Siddiqui's collaborations with international leaders in Neuroscience speaks to his stature within the Neuroscience community and the extremely high quality of his work and contributions. Based on his demonstrated excellence, creativity, innovation, and expertise in neuronal development, Dr. Siddiqui is a much sought-after collaborator.
Dr. Siddiqui is highly respected for his outstanding research contributions within the Canadian and International Neuroscience communities. The breadth and depth of Dr. Siddiqui's expertise is truly impressive and the novelty of his research program speaks to his scientific creativity and vision.

-Leigh Ann Swayne, PhD, Associate Professor, University of Victoria
Dr. Siddiqui's research success has been recognized by funding agencies. In 2014 Dr. Siddiqui launched his laboratory at the University of Manitoba with the support of a prestigious NARSAD Young Investigator Award from the Brain and Behavior Research Foundation. He has successfully attracted funding from CIHR, NSERC, Research Manitoba and the Brain and Behavior Research Foundation.
Dr. Siddiqui has also demonstrated a strong sense of community service:
Tabrez has shown a sustained interest in leadership activities including his involvement with the Canadian Brain Research Strategy as an ECI member, his advocacy activities with CAN, engaging Canadian parliament to advocate for science funding, and his involvement with the CAN annual meeting. Tabrez is an emerging leader in the neuroscience community.

-Shernaz Bamji, PhD, Professor University of British Columbia, Associate Director, Djavad Mowafaghian Center for Brain Health, and President of the Canadian Association for Neuroscience
In addition to his formidable research track record, Dr. Siddiqui is also an outstanding mentor and teacher. Dr. Siddiqui's research trainees have won numerous awards and accolades, and the excellent training received in Dr. Siddiqui's lab environment enabled them to obtain acceptance to competitive graduate programs, professional schools and to land independent Faculty positions. He chairs interdisciplinary neuroscience courses for graduate students and is engaged in developing an undergraduate neuroscience program. In addition to being a stellar research advisor and mentor, Dr. Siddiqui has also been nominated by the Manitoba Medical Students Association for multiple teaching awards, including Best Teaching in Small Group Setting, Mentorship, Innovation, and Inspiration, attesting to his success in teaching.
In summary, in the time since his appointment as an independent PI in late 2014, Dr. Siddiqui has successfully positioned himself to make ground-breaking discoveries in neuronal development and synaptic plasticity. He has established a highly successful and innovative, well-funded research program, has demonstrated teaching excellence in Neuroscience, and has performed exemplary academic service.
The Canadian Association for Neuroscience is proud to present Dr. Tabrez J. Siddiqui with a 2021 Young Investigator Award.
Five most significant scientific publications
Karimi B, Silwal P, Booth S, Padmanabhan N, Dhume S, Zhang D, Zahra N, Jackson MF, Kirouac GJ, Ko JH, and Siddiqui T.J.*, Schizophrenia-associated LRRTM1 regulates cognitive behavior through controlling synaptic function in the mediodorsal thalamus. Mol Psychiatry (2021). https://doi.org/10.1038/s41380-021-01146-6
Roppongi RT#, Dhume S#, Padmanabhan N#, Silwal P, Zahra N, Bomkamp C, Pati Cl, Karimi B, Champagne-Jorgensen K, Twilley RE, Zhang P, Jackson MJ, and Siddiqui T.J.*, LRRTMs organize synapses through differential engagement of neurexin and PTPσ, Neuron (2020), Apr 8; 106 (1):108-125.e12. doi: 10.1016/j.neuron.2020.01.003 (# co-first authors)
Bhouri M, Morishita W, Temkin P, Goswami D, Kawabe H, Brose N, Südhof TC, Craig AM, Siddiqui T.J.*, Malenka R*. (2018). Deletion of LRRTM1 and LRRTM2 in adult mice impairs basal AMPA receptor transmission and LTP in hippocampal CA1 pyramidal neurons. Proc Natl Acad Sci U S A., *Co-corresponding authors. 115(23): E5382-E5389 https://doi.org/10.1073/pnas.1803280115
Sinha R, Siddiqui T.J., Padmanabhan N, Wallin J, Zhang C, Karimi B, Fred Rieke, Craig AM, Wong RO, and Hoon M, LRRTM4: a novel regulator of presynaptic inhibitory and dyad output synapses of retinal bipolar neurons, Neuron (2020), Mar 18;105(6):1007-1017.e5.  https://doi.org/10.1016/j.neuron.2019.12.028
Siddiqui, T. J., Tari, Parisa K., Connor, Steven A., Zhang, P., Dobie, Frederick A., She, K., Kawabe, H., Wang, Yu T., Brose, N., and Craig, Ann M. (2013) An LRRTM4-HSPG Complex Mediates Excitatory Synapse Development on Dentate Gyrus Granule Cells, Neuron 79, 680-695. https://doi.org/10.1016/j.neuron.2013.06.029