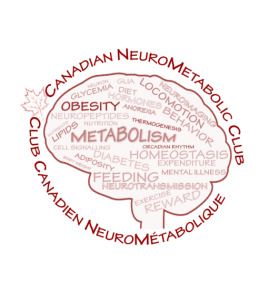 Date: May 13, 2018
Venue: Sheraton Wall Centre Vancouver
The CNS plays a primordial role in regulating whole body energy balance whereas intracellular metabolism is critical for neural signalling, plasticity and behaviour. Studying the interactions between metabolic processes and brain function and the contribution of nutrition, diet and physical activity is of utmost importance for understanding the development of metabolic, neuropsychiatric and neurodegenerative disorders.
The 6th Annual Canadian Neurometabolic Club meeting welcomes all scientists interested in brain-metabolism interplay. A major objective of the meeting is to provide a platform for trainees to present their research in the form of a short talk or poster, and to foster interactions and exchange among PIs and trainees
Thanks to our sponsors this meeting is free!
Program

Satellite 2 Full Program (PDF)

For additional information: info.neuroclub@gmail.com
Follow us on Twitter: @NeuroClub
Organizers:
Thierry Alquier, CRCHUM – Université de Montréal
Maia Kokoeva, MUHC – McGill University
Stephanie Fulton, CRCHUM – Université de Montréal
Alfonso Abizaid, Carleton University
Dominique Walker, Douglas Research Institute – Mcgill
Registration:
Registration is free.
Register for the meeting and satellite here:
https://www.confmanager.com/main.cfm?cid=2601&tid=32
Register for the satellite only here:
https://www.confmanager.com/main.cfm?cid=2845&tid=32
Abstract submission:
https://sites.google.com/view/neurometabolicclub2018/accueil
Sponsors:
Lilly Canada
Montreal Diabetes Research Center 
CMDO
CRCHUM
Université de Montréal
Zeiss