Location: Verdun/Lachine room
The CNS plays an essential role in the regulation of energy balance. Peripherally-derived nutrients and metabolic signals have a critical influence on neural metabolism and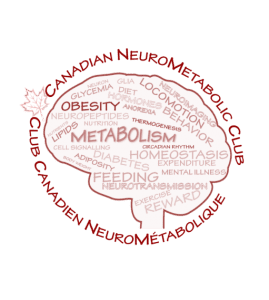 signalling to modulate behavioural, neuroendocrine and autonomic processes. Excessive intake of foods rich in fat and/or sugar and sedentary lifestyle underlie the prevalence of obesity and associated neuropathologies (psychiatric, degenerative, developmental). Understanding the interactions between diet, physical activity, metabolism and nervous system function is of utmost importance.
The 5th Annual Canadian Neurometabolic meeting welcomes all researchers working on CNS controls of appetite, energy metabolism, obesity and related disorders. The objective of the meeting is to provide a platform for trainees to present their research, in the form of short talk or poster, and to foster interactions and exchange amongst scientists interested in brain-metabolism interplay.
Thanks to our sponsors this meeting is free.
Saturday, May 27 – 6PM: Keynote lecture
Harvey Grill, PhD
Professor of Psychology, University of Pennsylvania
Obesity Unit Director of the Penn Institute for Diabetes, Obesity and Metabolism
"Treating the hyperphagia driving obesity: Focus on feeding inhibition"
Sunday, May 28 (8:30-4:30): Short talks + poster session with lunch
For additional information: info.neuroclub@gmail.com
Follow us on Twitter: @NeuroClub
Organizers:
Thierry Alquier, CRCHUM – Université de Montréal
Maia Kokoeva, MUHC – McGill University
Stephanie Fulton, CRCHUM – Université de Montréal
Alfonso Abizaid, Carleton University
Dominique Walker, Douglas Research Institute – McGill University
To register with CAN meeting: https://www.confmanager.com/main.cfm?cid=2601&tid=32
To register only for the Satellite: https://www.confmanager.com/main.cfm?cid=2845&tid=32