President's message
Dear CAN members,
While Canada has recognized the importance of investing in research in response to COVID-19, it is important to note that most health research is not COVID-19 focused but rather aims to address other important challenges Canada faces. These challenges include Neurological disorders – disorders that affect the brain and nerves – which are the leading cause of disability and the second leading cause of death worldwide. The public health agency of Canada recently released an infographic stating that About 1 in 3 Canadians will be affected by a mental illness during their lifetime.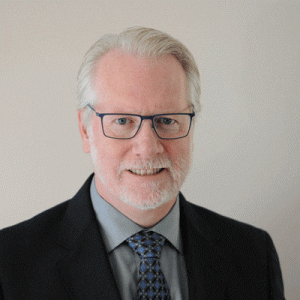 As neuroscientists, we know that to fix the brain, we need basic research to understand how it works. It is only through basic research funding that we will discover novel targets that could lead to treatments and cures for these devastating disorders. Advocacy remains one of our most important activities, even in pandemic times. It is important to remind members of Parliament, Ministers and Senators of the importance of funding basic research to address acute challenges, such as COVID-19, but also more long term and persistent challenges, such as those posed by neurological disorders.
Increased science funding would benefit all Canadians. We need to continue our advocacy work to reach a long-term and stable commitment by the federal government to support basic science by predictable and significant yearly increases in the budgets of CIHR, NSERC and SSHRC.
We invite you to share this message in the newly launched (January 25) budget consultation website: https://letstalkbudget2021.ca/
Our virtual hill week in November 2020 has demonstrated the strength and motivation of our community. It is important for us to continue to build on this momentum, and to stay mobilized in our promotion of science funding in Canada. It is by participating in consultations, and building relations with our elected officials, to make them realize the important work scientists do for Canada, that we can build a network of champions for science.
Scientists also have a role in helping disseminate valid scientific information and combating misinformation. One example of this is the large amount of false claims made in relation to the COVID-19 vaccine. As President, I was pleased to participate in the publication of a statement in support of widespread vaccination, written with a group of Canadian Science Society Presidents. The scientific community can play a positive role in society, especially in regards to issues that affect us all, such as the COVID-19 pandemic.
We continue our preparation for the 2021 meeting in Vancouver – please view the latest news here and on our website.
We look forward to seeing you all, as soon as it is safe to do so.
Charles Bourque, PhD

President of the Canadian Association for Neuroscience
Statement in support of COVID-19 vaccination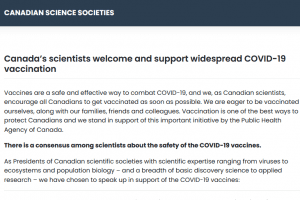 CAN has joined it voice to that of over a dozen scientific societies in Canada in support of widespread COVID-19 vaccination, and published a statement in support of vaccines on social media and on the canadiansciencesocieties.ca website.
We invite you to read the joint statement here, and to also be vocal about the scientific community's support for vaccination, to help counterbalance the large amounts of misinformation that is currently being seen on social media. Scientists can have a role in contributing evidence-based information about vaccines, and the scientific method that lead to their development.
Opportunities
CIHR-INMHA Brain Star Awards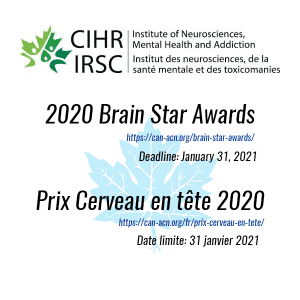 The Brain Star awards are designed to recognize the excellence of research done in Canada by students and trainees in all fields and disciplines covered by CIHR-INMHA. If you have you published a great paper in the areas of neuroscience, mental health and addiction in 2020, you could deserve a CIHR-INMHA Brain Star Award!
CAN has entered a partnership with INMHA to manage the application and review process again this year.
There is still time to apply for the 2020 Brain Star Award Competition:  Application deadline is January 31, 2021.
View all the details here: Brain Star Awards
Apply on the CAN website.
Participate in pre-budget consultations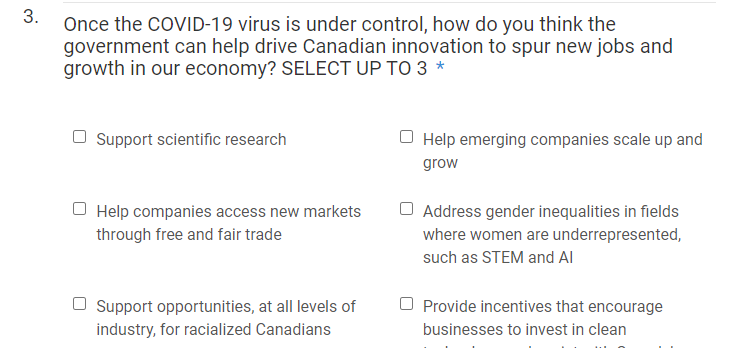 On January 25, 2021 – the Deputy Prime Minister and Finance Minister, the Honourable Chrystia Freeland, and the Minister of Middle Class Prosperity and Associate Minister of Finance, the Honourable Mona Fortier, launched pre-budget consultations. These discussions allow the government to hear the best ideas from Canadians and experts across the country about how Budget 2021 can support Canadians through the pandemic and help us build back better.
When COVID-19 is under control and Canada's economy is ready to rebound, the government has a plan to make smart, targeted investments to jumpstart the country's economic recovery and begin to repair the damage done by the pandemic. These pre-budget consultations are an opportunity for Canadians from across the country to share their ideas and priorities for how the government can best invest to create jobs, strengthen the middle class, and build a greener, more competitive, more inclusive, and more resilient economy.
Read the full press release here:
https://www.canada.ca/en/department-finance/news/2021/01/government-launches-budget-consultations-to-hear-from-canadians.html
and visit the consultation website here: https://letstalkbudget2021.ca/
Research spotlights
CAN is proud to highlight the research of trainees in Canadian laboratories in the video series "CAN Research Spotlights". The objective of this series is to feature short presentation of recently published papers which may not have been featured otherwise in a press release, in a way that presents the trainee who performed the work, and that entices viewers to read the paper.
View the application instructions and form here: https://can-acn.org/can-video-research-spotlights/

View our latest featured videos here:

Update on the Young Investigator Award – new dates for 2021
The CAN Young Investigator Award recognizes outstanding research achievements by a young neuroscientist at the early stage of his or her career. Candidates are proposed by neuroscientists who are members of the Canadian Association for Neuroscience, and the winner is chosen by the CAN Nominations Committee.
As our meeting is taking place in August this year, the Call for nominations will take place February 22 to April 1, 2021.
More CAN advocacy & outreach awards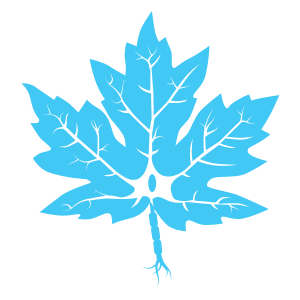 The CAN advocacy & awards program will be expanded to fund more activities yearly. The Canadian Association for Neuroscience is proud to announce the launch of a sponsorship program competition for neuroscience outreach and advocacy activities in Canada. These sponsorships aim to support the important work trainees do to promote and showcase neuroscience research and education.
Sponsorships will consist of a financial contribution of up to $1000 CAD to support a specific event/activity, a letter of recognition from the CAN advocacy committee, and a feature article about the event on the CAN website and social media accounts. The event/activity does not have to be in-person, but can be virtual, through social media, etc. The requests for the funds should be clearly justified.
If applicable, CAN should be acknowledged as a sponsor / supporter of the activity.
To apply, please visit:
https://can-acn.org/can-trainee-advocacy-outreach-sponsorships/
Applications will be accepted at all times and reviewed every three months (March 1, June 1, September 1, and December 1) and awards will be given based on adherence to award criteria and be contingent on budget availability.
Special call for joint JNS-CAN symposium
We are pleased to announce that the Japan Neuroscience Society (JNS) and the Canadian Association for Neuroscience (CAN) will hold a joint symposium at the 14th Canadian Neuroscience Meeting. Proposals for the joint JNS-CAN symposium are now solicited from CAN members.
Proposals are being accepted online now.
DEADLINE: February 8, 2021, midnight Central time.  
Submission guidelines here: https://can-acn.org/meeting-2021/2021-special-call-for-joint-jns-can-symposium/
Call for satellite symposia & events
Satellite symposia events are independently organized by community members and complement the main Canadian Neuroscience Meeting by providing opportunities for groups to meet before or after the main CAN meeting.
A limited number of places are available at the Westin Bayshore before the CAN meeting, and publicity opportunities for events hosted off site are also available
The official submission period for satellite events is January 4 to February 8, 2021
Submission information and form here: https://can-acn.org/meeting-2021/can-satellite-symposium-or-event-proposal/
IBRO – MBL and CSHL Fellowships
The IBRO (International Brain Research Organization) US-Canada Regional Committee (USCRC) is pleased to announce our 2021 fellowships program that will cover the cost for PhD students and postdoctoral fellows training in neuroscience in Canada to attend advanced neuroscience courses or meetings at the Marine Biological Laboratories (MBL) at Woods Hole, MA., and Cold Spring Harbor Laboratory (CSHL), NY.
For MBL, all trainees are welcomed to apply but preference will be given to trainees belonging to minority groups (Indigenous communities in Canada, visible minorities, persons with disabilities, women, and other minorities) as well as those in non-U15 Universities (http://u15.ca/). The MBL awards will cover the cost of tuition, room, and board. Fellowships are worth up to $11,000 per trainee depending on the course taken.
For CSHL, reduced registration fees for virtual meetings are available for trainees from non-U15 Universities (http://u15.ca/). If in-person courses resume in the second half of 2021, partial tuition support of up to $8,000 per trainee will be available.
The aim of this program is to increase diversity in neuroscience in Canada, by providing trainees with access to cutting-edge research training in contemporary neuroscience.
Interested trainees should submit applications directly to the course of interest. Evaluation of applications and offers of admission to courses are made by the course leaders. Accepted candidates with the backgrounds mentioned above will be automatically considered for IBRO fellowship.
More information here: https://can-acn.org/ibro-mbl-and-cshl-fellowships/
Call for the 2021 Joseph Altman Award in Developmental Neuroscience
The Japanese Neuroscience Society is now calling for nomination for the 2021 Joseph Altman Award in Developmental Neuroscience.
Scope of the Award: Research in developmental neuroscience at the tissue and cellular levels. The scope of the Award is not limited to phenomena during fetal or developmental stages; it also includes adult neurogenesis and its biological significance and its changes resulting from aging and diseases. (As a general rule, applied studies are not included within the scope of the Award.)
Eligibility: As a general rule, researchers who have received their doctorate or comparable academic degree less than 20 years prior to the application submission deadline. (Not limited to members of the Japan Neuroscience Society.)
View full details on the Japanese Neuroscience Society website
Application deadline is February 10th, 2021 (new extended deadline)

Jobs
View recent advertisements posted on our website below. Advertisements are posted for free for CAN members
Meeting news

Hotel reservation
The 2021 meeting will take place at the Westin Bayshore Hotel Vancouver.
Use this link to reserve your room today:
Hotel reservation deadline: July 30, 2021 – Our group rates end and room block will be released at this date. Make sure to reserve before the deadline!
Sponsors and Exhibitors
Sponsors and exhibitors are important partners that allow us to keep registration fees low for all our attendees, including trainees. We invite you to share information about the CAN meeting to vendors and others potential partners.
More details: https://can-acn.org/meeting-2021/2021-sponsors-exhibitors/
Key dates reminder
| | |
| --- | --- |
| January 4, 2021 | Special Call for Parallel Symposia open |
| January 4, 2021 | Call for Satellite Workshops open |
| February 8, 2021 | Special Call for symposia deadline |
| February 8, 2021 | Call for Satellite workshops deadline |
| February 22, 2021 | Poster call open |
| February 22, 2021 | Open Call for Young Investigator Award |
| March 1, 2021 | Registration open |
| March 1, 2021 | Applications for travel awards open |
| April 1, 2021 | Poster deadline |
| April 1, 2021 | Young Investigator Awards nominations deadline |
| April 8, 2021 | Applications for travel awards close |
| June 30, 2021 | Early Bird rate ends |
| August 9, 2021 | Regular rate ends |
| August 21, 2021 | Public Lecture & Satellite meetings |
| August 22 – 25, 2021 | CAN 2021 Meeting |