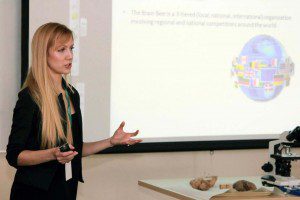 Katherina Lebedeva, is a PhD student in Cognition and Neuroscience (Psychology Department) at the University of Saskatchewan. In her final year of graduate studies who has been very actively involved in promoting neuroscience in Saskatchewan during her graduate career.
Her passion for making a difference in her community has brought her to volunteer in the Brain Awareness Week initiative, educating children and general public about the brain and brain injury prevention. Every year, two main events are organized by the Saskatchewan Neuroscience Network (U of S) partnered with the Sask. Central Acquired Brain Injury Outreach Team, and Saskatoon Health Region: Brain Blast and Brain Wave (formerly: Brain Day).
The Brain Blast is an annual event held at Saskatoon City Hospital aimed at teaching individuals in the community about the brain and brain injury prevention. University student-volunteers help run various Brain Blast stations dedicated to specific lobes of the brain, brain injury prevention, neuroscience lab, and MRI model. Visitors (families with children, and seniors) do the Brain Walk from station to station, learn about the brain through fun and educational activities, and receive stamps in their Brain Blast passports. After the event, these passports are used to draw prizes: helmets, brain mould, and others.
The Brain Wave (formerly Brain Day) is a nation-wide injury prevention program for students in grades 4-6. University student-volunteers go into classrooms and teach children about the brain and brain injury prevention. This half-day, in-class program promotes brain safety awareness through basic neuroanatomy, interactive activities and injury prevention messages, including activity booklets, helmet fitting tips and Jell-O Brains. In Saskatchewan, university students with neuroscience and health science backgrounds are organized to deliver these presentations at elementary schools. As a graduate student, Katherina Lebedeva has participated as a "Brain Wave" and "Brain Blast" volunteer for several years (2012-2015), but recently in 2015-2016, has served as the co-organizer and coordinator of both events in Saskatoon. As a co-organizer, her duties include recruiting and managing volunteers, placing volunteers to schools, training, securing some of the funding/donations for the events, and participating in weekly meetings with other co-organizers.
Finally, Katherina has taken a leading role in launching the first Saskatchewan Brain Bee competition for high school students in 2015. The Brain Bee (modelled after Spelling Bee) tests the students' knowledge in various topics of neuroscience, and motivates the students to pursue neuroscience and health science related careers. The Brain Bee is a worldwide competition, however, it has never been available to high school students in Saskatchewan before. With the help of the president of Saskatchewan Neuroscience Network, Lebedeva acquired funding, engaged sponsors' participation, planned the budget for the event, and coordinated the group of volunteers in our inaugural Saskatchewan Brain Bee competition 2015. The winner 2015 (a student from Evan Hardy Collegiate) was the first Saskatchewan student to go to the national Canadian Brain Bee. A larger number of students is registered for the 2016 competition.
We are pleased to congratulate Katherina Lebedeva for her long term (5 years) involvement in Brain Blast and Brain Wave (Day) events as a volunteer and coordinator (co-organizer), as well as her leading role in launching and managing the Saskatchewan Brain Bee Competition. All three events provide a remarkable opportunity to increase awareness, educate, and inspire people of all ages about the brain, brain research, and brain injury prevention.