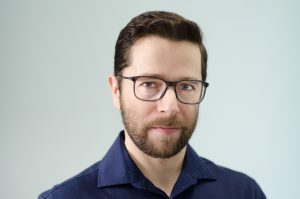 Dr. Jeremy J Watts – University of Toronto
Scientific Publication
Jeremy J Watts, Maya R Jacobson, Nittha Lalang, Isabelle Boileau, Rachel F Tyndale, Michael Kiang, Ruth A Ross, Sylvain Houle, Alan A Wilson, Pablo Rusjan, Romina Mizrahi (2020) Imaging brain fatty acid amide hydrolase in untreated patients with psychosis. Biological Psychiatry, 88(9), pp. 727-735
https://www.sciencedirect.com/science/article/pii/S0006322320312993
The brain's 'cannabis' neurotransmitter system identified as a potential biomarker for psychotic symptoms
Research by Dr. Jeremy J Watts, working in the laboratory of Dr. Romina Mizrahi at the Centre for Addiction and Mental Health (CAMH), suggests a link between the brain's endocannabinoid neurotransmitter system and positive psychotic symptoms experienced by patients with schizophrenia-spectrum disorders. Using molecular neuroimaging the researchers found that patients with the most severe positive psychotic symptoms (e.g., delusions, hallucinations) also tended to have the lowest brain levels of a protein – known as FAAH – that breaks down endocannabinoid neurotransmitters in the brain.
The endocannabinoid system has previously been implicated in schizophrenia based on changes observed in the brains of schizophrenia patients and by the association of heavy cannabis use with increased risk of developing schizophrenia. FAAH breaks down anandamide, an endocannabinoid neurotransmitter that activates the same cannabinoid 'CB1' receptors activated by cannabis. Previous studies have reported that acutely symptomatic patients with schizophrenia had elevated levels of anandamide in blood and cerebrospinal fluid. Given FAAH's role in controlling anandamide levels, the present findings provide further support for a link between anandamide metabolism and acute psychotic symptoms in patients with schizophrenia.
Psychotic disorders like schizophrenia emerge in late adolescence and early adulthood and are one of the top causes of disability worldwide. Currently available medications are not effective in all patients and do not treat all symptoms of the disease. On the potential clinical implications of the finding, authors of a scientific commentary on this work speculated "if lower FAAH observed with higher symptoms reflects the body's attempt to reduce symptoms, that would raise the possibility of testing FAAH inhibitors in the treatment of positive symptoms" and recommended that "future studies should investigate FAAH activity in [schizophrenia]."
M Ranganathan, & DC D'Souza. (2020) Alterations in the Endocannabinoid System in Schizophrenia. Biological psychiatry 88(9), pp. 675-677 https://doi.org/10.1016/j.biopsych.2020.08.019
Dr. Jeremy J Watts
Dr. Jeremy Watts conducted this work during his PhD training in the laboratory of Dr. Romina Mizrahi at CAMH and the Department of Pharmacology & Toxicology at the University of Toronto. Dr. Watts is currently a post-doctoral fellow at CHU Sainte-Justine and Université de Montréal working in the laboratories of Dr. Patricia Conrod and Dr. Stephane Potvin where he is extending his doctoral work by studying links between adolescent cannabis exposure, psychosis risk and neurodevelopment.
Funding Sources
This work was supported by a NARSAD Independent Investigator's Grant and grants from the National Institute of Mental Health. This research was supported, in part, by funding from the Canada Research Chairs program, Canadian Institutes of Health Research, and the Centre for Addiction and Mental Health. This study was supported, in part, by the National Institute of Health and National Institute of Drug Abuse, the Ontario Mental Health Foundation, and a Canadian Institutes of Health Research Project Grant.