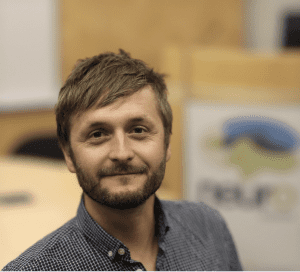 The Canadian Association for Neuroscience is extremely proud to present Dr. Boris Bernhardt, Assistant Professor in Neurology and Neurosurgery at McGill University, with the 2022 CAN New Investigator Award. Dr. Boris Bernhardt is a Tier-2 Canada Research Chair in Cognitive Neuroinformatics and leads the multimodal imaging and connectome analysis laboratory (http://mica-mni.github.io) at the McConnell Brain Imaging Centre (BIC) of the Montreal Neurological Institute-Hospital (The Neuro).
Dr. Boris Bernhardt is recognized internationally for his research that seeks to better understand human brain organization, brain development, and neural mechanisms of human cognition across different spatial and temporal scales. His research integrates cutting edge in vivo neuroimaging, network science, histology, and transcriptomics approaches. He is one of the pioneers of an emerging system neuroscience field to study large-scale gradients – spatially organized patterns of brain microarchitecture, connectivity, and function– and to examine their role in human cognition. His research has contributed to the growing understanding of how multiscale network anomalies contribute to atypical brain function and cognitive difficulties in common conditions, notably in epilepsy and autism.
Dr. Bernhardt is an international leader in neuroimaging and connectome analysis of the healthy and diseased brain. Dr. Bernhardt is a key player in bringing connectomics to epilepsy research, publishing pioneering graph theoretical analyses of structural networks in drug-resistant epilepsy syndromes

Dr. Robert Edward Hogan, M.D. Professor of Neurology at Washington University in St. Louis, Director of the Adult Epilepsy Section in the Department of Neurology & President of the American Epilepsy Society
Dr. Bernhardt has published over 150 peer-reviewed papers, including multiple papers that his trainees published as first authors papers in top journals such as Nature Methods, Nature Communications, Science Advances, PNAS, eLife, PLoS Biology, and Neurology, together with multiple book chapters and more than 160 conference proceedings. He co-authored influential reviews on brain architectures relating to human cognition and affect in Nature Reviews Neuroscience and Annual Reviews of Neuroscience. His research has been visible (9700+ citations, h=53) and recognized at the editorial stage (15+ editorials).
Boris Bernhardt received numerous career awards, including the Michael Prize of the International League Against Epilepsy (ILAE), the highest international award for young epilepsy researchers. His lab has been supported by national/international funders, such as the Canadian Institutes of Health Research (CIHR), National Sciences and Engineering Research Council of Canada (NSERC), BrainCanada, Canada Research Chairs (CRC), National Institutes of Health (NIH), European Research Council (ERC), and the Helmholtz Foundation.
A leader in collaborative research, open neuroscience and mentorship
Together with Dr. Birgit Frauscher at the Neuro, Dr. Boris Bernhardt co-directs The Neuro's new Centre of Excellence in Epilepsy, to advance care, research, and open science in epilepsy. Dr. Bernhardt's team is also an international leader in open neuroscience, and they have developed multiple widely used tools and datasets to enhance accessibility, reproducibility, and transparency of multiscale neuroinformatics (e.g., https://brainspace.readthedocs.io/, https://enigmatoolbox. readthedocs.io/, https://bigbrainwarp.readthedocs.io/, https://brainstat.readthedocs.io).
Training the next generation of scientists has always been his passion. At McGill, he has been principal supervisor of more than 30 trainees. Trainees he directly supervised show excellent career trajectories, evidenced in them publishing frequent first author papers, their success in obtaining competitive fellowships/awards, and their outstanding career development. Of note, four of his previously supervised trainees already hold faculty positions and run their own labs. In addition to teaching self-developed innovative courses at McGill, he co-organized the weekly Feindel lecture series – with over 150 widely attended seminars since 2016.
The international scope of his educational activities is also evidenced by his being regularly giving invited lectures and keynotes, together with the chairing of scientific sessions at major international meetings (75+ lectures/keynotes). Moreover, he chaired four widely attended international workshops, both in-person and virtually since 2019.
More general contributions to academia are evidenced by his serving as academic editor and ad-hoc reviewer for numerous journals, participating in review panels for national and international funders, and participating in and leading fellowship committees at McGill and elsewhere. Finally, he serves in the Neuroimaging Task force of the International League Against Epilepsy and is a core member of ENIGMA-Epilepsy, a global multi-center consortium to advance the understanding of epilepsy.
In summary, in the short time since his appointment in 2016 as an independent investigator at the BIC and The Neuro at McGill University, Dr. Boris Bernhardt has published pioneering research on to understand the organization and development of the healthy brain, and has furthered our understanding of common conditions such as epilepsy and autism.  His leadership is furthermore evidenced by him providing neuroinformatics tools and contributing to international training efforts. He has earned international recognition for the quality and originality of his research. In his own laboratory, his commitment to training has contributed to the impressive success of his trainees.
The Canadian Association for Neuroscience is very proud to present Dr. Boris Bernhardt with the CAN 2022 New Investigator Award.
Laboratory website
Multimodal imaging and connectome analysis laboratory:  http://mica-mni.github.io
Five most significant contributions
Lariviere S, Paquola C, Park B, Royer J, Wang Y, Benkarim O, Vos de Wael R, Valk S, Thomopoulos SI, Kirschner M, ENIGMA, Sisodiya S, McDonald CR, Thompson PM, Bernhardt BC (2021) The ENIGMA toolbox: multiscale neural contextualization of multisite neuroimaging datasets. Nature methods, 18: 698-700
https://www.nature.com/articles/s41592-021-01186-4
Lariviere S, Rodriguez-Cruces R, Royer J, …, Bernhardt BC (2020) Network-based atrophy modeling in the common epilepsies. Science Advances, 6(47): eabc6457.
https://www.science.org/doi/10.1126/sciadv.abc6457
Paquola C, Vos de Wael R, Wagstyl K, Bethlehem R, Seidlitz J, Hong S, Bullmore ET, Evans AC, Misic B, Margulies DS, Smallwood J, Bernhardt BC (2019) Microstructural and functional gradients are increasingly dissociated in transmodal cortices. PLoS Biology, 17(5): e3000284.
https://journals.plos.org/plosbiology/article?id=10.1371/journal.pbio.3000284
Hong S, Vos de Wael R, Bethlehem R, Lariviere S, Paquola C, DiMartino A, Milham M, Margulies D, Smallwood J, Bernhardt BC (2019) Atypical functional connectome hierarchy in autism. Nature Communications, 10: 1022.
https://www.nature.com/articles/s41467-019-08944-1
Vos de Wael R, Larivière S, Caldairou B, Hong S, Jefferies E, Margulies DS, Smallwood J, Bernasconi N, Bernhardt BC (2018) Anatomical and microstructural determinants of hippocampal subfield functional connectome embedding. PNAS 115(40):10154-10159.
https://www.pnas.org/doi/10.1073/pnas.1803667115
Full publication list and citations available at: https://scholar.google.com/citations?user=WlKrpE4AAAAJ&hl=de