The Canadian Association for Neuroscience is extremely proud to present Dr. Aaron A. Phillips, Assistant Professor at the University of Calgary, with a 2021 CAN Young Investigator Award.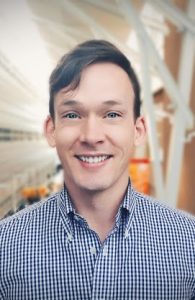 Dr. Aaron Phillips' work has led to a better understanding of the interactions between the nervous and cardiovascular systems, and how these systems are disrupted in the presence of clinical conditions such a spinal cord injury. This work has recently led to the development of a neuroprosthetic that has the potential to stabilize blood pressure after a spinal cord injury, thereby restoring this essential function, and reducing the consequences of injury, including increased risk for heart attack and stroke. A clinical trial is now being planned to fully translate this therapy into the community of those with spinal cord injury.
Dr. Phillips' research is truly translational. Within the same building, on the same floor, Dr. Phillips leads an experimental preclinical animal laboratory and a clinical testing facility. For a recent publication in Nature, he utilized signal processing, computational modeling, control engineering, applied physiology and neuroscience, as well as circuit- level causal interrogation. These tools were used to understand the mechanisms of autonomic cardiovascular dysfunction after spinal cord injury, and then to develop a novel biotechnology to serve as a therapeutic. As this therapy was effective in rodents, non-human primates, and a human, several clinical trials are now being launched, with the support of the US Military through the Defense Advanced Research Projects Agency (DARPA), and industry through ONWARD Medical, to bring this therapy to the community.
Based on Dr. Phillips' publications, research grants (>$40M), awards, accomplishments, and collaborations, I can state that Dr. Phillips is certainly among the most successful young investigators globally, regardless of field. Dr. Phillips is on track to be one of the most successful scientists in our field.

Dr. Grégoire Courtine, Professor, École Polytechnique Fédérale de Lausanne (EPFL)
In three years as a young investigator, Dr. Phillips has been already recognized for his work from both the scientific community and public. Dr. Phillips successfully secured a CIHR Project Grant in his first submission, in addition to a number of additional large operating grants. These include support from organizations such as Brain Canada, Wings for Life (funded by RedBull) and Compute Canada. Other recognitions have included being an invited speaker by several prestigious organizations, including the Royal Society (London) to lecture on sympathetic control of blood flow, receiving the Brain Canada Future Leader Award, The Guyton Award for Excellence in Integrative Physiology from the American Physiological Society, and selected for a Calgary 2020 Top 40 under 40 award for his commitment to science and the community. Importantly within the University of Calgary, he was chosen as the recipient of the Peter Lougheed Award, a $40,000 prize given to a top early career professor in the medical school.
In just three years of becoming an independent scientist, Dr. Phillips is already considered one of our top people and has already made a significant positive impact to research within the Hotchkiss Brain Institute through both his direct program, and his support developing a new core platform.

David Park, PhD, Fellow, Royal Society of Canada, Professor, Clinical Neurosciences and Cell Biology & Anatomy, Director, Hotchkiss Brain Institute
Dr. Phillips is the incoming Director of a new research platform within the Hotchkiss Brain Institute. The RESTORE.net (REsearching STrategies fOr Rehabilitation Network) is a ~$3.5M fully translational platform developing neuromodulation approaches for neurological conditions. RESTORE.net is working with DARPA through Dr. Phillips to complete much more preclinical research, and clinical trials stemming from his recent work in Nature.
In the 25 years since I started my laboratory in Canada, I have not worked with a junior colleague more productive and independent than Dr. Phillips. I have now known Dr. Phillips for 10 years and believe we are only beginning to see his impact on the field.

Andrei Krassioukov MD, PhD, FRCPC, FCAHS Professor, Dep. Medicine Associate Director and Scientist, ICORD, UBC Fellow of Canadian Academy of Health Sciences, President – American Spinal Injury Association
Dr. Phillips' work is motivated to understand the neural substrate for abnormal blood flow control after spinal cord injury and test new solutions for this problem. Stemming from rigorous scientific inquiry, Dr. Phillips holds numerous patents that have been licensed to industry. This includes a series of provisional patents and an international patent filed after he conceived of a system for delivering epidural stimulation to improve autonomic cardiovascular function after spinal cord injury.
Finally, Dr. Phillips is also a strong mentor. Many of his trainees have already received prestigious federal level tri-council scholarships and fellowships. His first postdoctoral fellow recently received the Killam Postdoctoral Fellowship as one of the top fellows at the University of Calgary. These trainees are regularly publishing papers, officially contributing to patents and commercialisation, and successfully progressing on to industry or further training.
The quality of Dr. Phillips' scientific publications, the originality of his novel, highly-productive and well-funded research directions, and his ability to translate his results to clinical trials and patents to commercialize his discoveries demonstrate his creativity, initiative and collaborative strength.
The Canadian Association for Neuroscience is proud to present Dr. Aaron A. Phillips with a CAN Young Investigator Award.
Five most significant scientific publications
Squair JW, Gautier M, Mahe L, Soriano JE, Rowald A, Bichat A, Cho N, Anderson MA, James ND, Gandar J, Incognito AV, Schiavone G, Sarafis ZK, Laskaratos A, Bartholdi K, Demesmaeker R, Komi S, Moerman C, Vaseghi B, Scott B, Rosentreter R, Kathe C, Ravier J, McCracken L, Kang X, Vachicouras N, Fallegger F, Jelescu I, Cheng Y, Qin L, Denison T, Dukelow S, Charbonneau S, Rigby I, Boyd SK, Milar PJ, Moraud EM, Capogrosso M, Wagner FB, Barraud Q, Bezard E, Lacour SP, *Courtine G, *Phillips AA. Neuroprosthetic baroreflex controls haemodynamics after spinal cord injury. Nature 590, 308–314 (2021). https://doi.org/10.1038/s41586-020-03180-w
Squair JW, Lee AHX, Sarafis ZK, Coombs G, Barak O, Cragg JJ, Mijacika T, Pecotic R, Krassioukov AV, Dogas Z, Dujic Z, Phillips AA. Sleep-disordered breathing is associated with brain vascular reactivity in spinal cord injury. Neurology. 2019 Dec 10;93(24):e2181-e2191. doi: 10.1212/WNL.0000000000008619.
Squair JW, Lee AH, Sarafis ZK, Chan F, Barak OF, Dujic Z, Day T, Phillips AA. Network analysis identifies consensus physiological measures of neurovascular coupling in humans. J Cereb Blood Flow Metab. 2020 Mar;40(3):656-666. doi: 10.1177/0271678X19831825.
*West CR, *Phillips AA, Squair JW, Williams AM, Walter M, Lam T, Krassioukov AV. Association of Epidural Stimulation With Cardiovascular Function in an Individual With Spinal Cord Injury. JAMA Neurol. 2018 May 1;75(5):630-632. doi: 10.1001/jamaneurol.2017.5055. https://jamanetwork.com/journals/jamaneurology/fullarticle/2672963
Phillips AA, Matin N, Frias B, Zheng MM, Jia M, West C, Dorrance AM, Laher I, Krassioukov AV. Rigid and remodelled: cerebrovascular structure and function after experimental high-thoracic spinal cord transection. J Physiol. 2016 Mar 15;594(6):1677-88. https://doi.org/10.1113/JP270925
Visit the Phillips lab website to learn more: