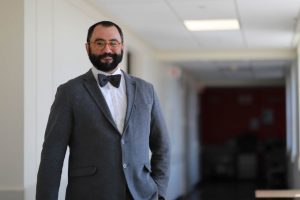 The Canadian Association for Neuroscience is proud to present Cristian Zaelzer and the Convergence Initiative a 2020 CAN Neuroscience Outreach & Advocacy Award. Convergence embodies the idea of linking art and science in a way that science becomes accessible and exciting to the public. They have done this through carefully planned approaches and exciting events, and they truly reach out to the public. The multi-disciplinary nature of their content and programs is inspiring. The spirit of the Convergence initiative resonates with the fundamental values of CAN, and we are therefore glad to support their work, which we have found to be of high quality, beautiful and thought provoking.
Dr. Cristian Zaelzer founded the Convergence Initiative in 2016 as an independent non-profit organization dedicated to advancing the knowledge of neuroscience and art and promoting the cross-pollination between these two disciplines. Through this organization, his goal is to advance the education of neuroscience and mental health through the use of art, and to promote the interaction between neuroscience and art. Convergence activities include teaching, research, public engagement and outreach.
Now in its fourth year, the group runs a course at Concordia University, which brings together art students from the Faculty of Fine Arts and neuroscience students from McGill University. In addition, Convergence hosts an ongoing public seminar series exploring the crossover of science with the arts and communication called The Convergence Sci-Art Art-Sci Series. Their other activities include hosting exhibitions, facilitating collaborations, and online media and publication.
The convergence initiative now brings together almost 20 active members inside and outside Canada, including the UK, USA, and the UAE. Among its members, neuroscientists, biologists, physicians, fine-art practitioners, art educators, art historians, high-schoolers, and undergrad and graduate students. Over the years, Convergence has developed and fostered collaborations with the Brain Repair and Integrative Neuroscience Program (BRaIN) of the Research Institute of the McGill University Health Centre, the Faculty of Fine Arts of Concordia University, McGill University Integrated Program in Neuroscience, the Canadian Association for Neuroscience, The Montreal General Hospital Foundation, Visual Voice Gallery, the Molecular and Cellular Microscopy Platform of the Douglas Research Centre, and the Montreal Museum of Fine Arts.
As part of the Convergence Initiative's ongoing efforts to promote public engagement with neuroscience by highlighting the intersection of neuroscience with art, they have started a special project in collaboration with the Montreal Museum of Fine Arts (MMFA). This partnership will encompass a series of events that will make use of the MMFA collection, exhibitions, facilities and staff. The goal of the program is to facilitate the transfer of knowledge about colour and visual perception between communities of neuroscientists, artists, educators and the public.
Learn more about all the activities and events that Convergence has organized, including recordings of many of the events, on the Convergence website.