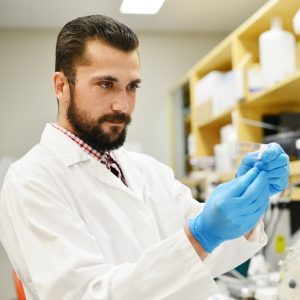 Roger Hudson – Western University
Scientific publication:
Hudson, R., Renard, J., Norris, C., Rushlow, W. J., & Laviolette, S. R. (2019). Cannabidiol Counteracts the Psychotropic Side-Effects of Δ-9-Tetrahydrocannabinol in the Ventral Hippocampus through Bidirectional Control of ERK1–2 Phosphorylation. Journal of Neuroscience, 39(44), 8762-8777. DOI: https://doi.org/10.1523/JNEUROSCI.0708-19.2019 https://www.jneurosci.org/content/39/44/8762.abstract
Laboratory website:
https://www.laviolettelab.com/

Roger Hudson lives in London, Ontario
How CBD blocks side-effects of THC in cannabis
Research by Roger Hudson in Dr. Steven Laviolette's laboratory at Western University shows for the first time how cannabidiol (CBD) helps lessen negative psychiatric side effects of tetrahydrocannabinol (THC) in cannabis. Their research shows that by co-administering CBD with THC, they were able to reverse the anxiety-like and addictive-like behaviours caused by the THC.
Chronic or acute use of high-potency cannabis is associated with numerous neuropsychiatric side effects, including problems with emotional processing and associative memory formation. While these neuropsychiatric side effects of cannabis are associated with THC, clinical and pre-clinical findings demonstrate that cannabidiol (CBD) — the major nonpsychoactive phytocannabinoid in cannabis — possesses anti-psychotic and anxiolytic properties. The mechanism by which CBD can mitigate the effects of THC was unknown.
In this new study, Hudson and colleagues showed THC stimulates extracellular-signal regulated kinase (ERK) a major molecular signaling component in THC-induced side effects — including paranoia, anxiety and addictive behaviours. In contrast, CBD co-administration blocked THC-induced ERK stimulation and prevented THC-induced behavioral and neural abnormalities.
These findings identify a novel molecular mechanism that may account for how CBD functionally mitigates the neuropsychiatric side effects of THC. In the future, this knowledge may be used to engineer cannabis strains with THC that does not produce the pro-psychotic side effects. In addition, building upon these findings, future research can further enhance the anti-psychotic efficacy of CBD by the mechanisms identified here.
Roger Hudson
Roger Hudson is a PhD candidate in the laboratory of Dr. Steven Laviolette at Western University and recently founded the science communication initiative First-Person Science.
Funding
Vanier Canada Graduate Scholarship via the Natural Sciences and Engineering Research Council of Canada.