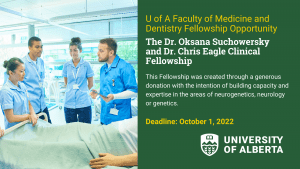 The Dr. Oksana Suchowersky and Dr. Chris Eagle Clinical Fellowship was created through a generous donation with the intention of building capacity and expertise in the areas of neurogenetics, neurology or genetics. The fellowship is tenable at the University of Alberta with preference given to neurogenetics.
Candidates must have or currently be enrolled in specialty training in neurology or genetics, and be an MD or PhD/MD and eligible for licensure in the province of Alberta.
Fellowship value and duration: Fellow will be paid at the PGY6 level for 1 year.
Application deadline: October 1, 2022
Please visit the University of Alberta's Neuroscience and Mental Health Institute (NMHI) website to learn more about this opportunity and how to apply. https://www.ualberta.ca/neuroscience-and-mental-health-institute/membership/funding-opportunities/dr.-oksana-suchowersky-and-dr.-chris-eagle-clinical-fellowship.html
Contact information
nmhicoms@ualberta.ca